Wearing a boot to stabilize his right ankle and in possession of crutches, Justin Turner said he felt fortunate the injury he suffered Monday retreating to first base on a rundown was limited to a sprain.
"It's probably as good as it could have gotten," Turner said about the diagnosis he received after an exam Tuesday at the Hospital for Special Surgery in Manhattan, on the day he landed on the disabled list. "It's a sprain in my ankle and some ligaments in my foot. The doctor seemed liked it was pretty good news for me. Not a high-ankle sprain. More down in the foot."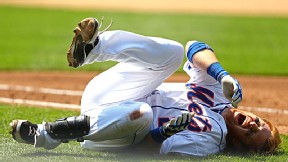 Al Bello/Getty Images
Justin Turner was in agony after jamming his right ankle on first base in Monday's game.
Turner acknowledged the play, during which he jammed his foot on the first-base bag after getting tagged out in a rundown, looked more serious. Still, he said: "I knew it was in my ankle. I felt it right away. I know it might have looked like a whole lot of other stuff."
He watched a replay Tuesday morning.
"It looked really awkward," Turner said. "I don't know what was going on. I have nothing (wrong) in my leg -- no knee, no hamstring. Just I turned my ankle over on the base."
As Turner departed the clubhouse Tuesday night, he was not using the crutches -- only holding them. He said he needs the crutches more in the morning, when he experiences stiffness in the ankle.
He particularly regretted the timing of the injury because he had been hitting .538 (7-for-13) during a five-game hitting streak, which had raised his average to .269. He also was being counted upon to contribute at shortstop with absences by Ruben Tejada and Ronny Cedeño.
"They said as soon as I can bear weight on it, I can get this big thing off my foot and move forward from there," Turner said.
Turner had broken the same right ankle while playing in the College World Series with Cal State Fullerton.
"When I took the X-ray, the break showed up on the X-ray and they asked about it," Turner said. "But they could tell it was an old injury. They just wanted to take the MRI to be cautious, to make sure that area of my ankle didn't get any worse."