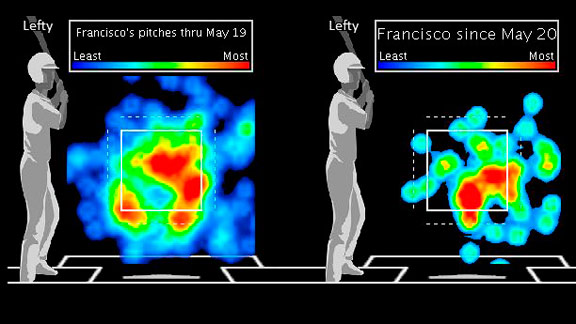 Frank Francisco has changed his approach to pitching to lefties, and it is paying off.Frank Francisco didn't make the best of first impressions on Mets fans.
But in the last 10 days, he's looked like a much better pitcher. What's behind the improvement in results? Let's take a closer look.
Improved velocity
Francisco averaged 93 miles-per-hour on his fastball through his first 18 outings. But in his last five appearances, he's averaged 94 miles-per-hour with that pitch.
Frank Francisco Fastball
2012 Season
His best fastball velocity of the season was the 95 miles-per-hour he averaged in striking out the side in Toronto. He posted similar numbers in Tuesday's save against the Phillies.
Can't Square Him Up
That improved fastball velocity has likely led to this result. In his first 18 outings, hitters were putting 40 percent of their swings against Francisco into play.
But of the 36 swings they've taken in his last five games, they've only hit nine of them (25 percent).
One caveat to that: Francisco got four swings-and-misses with the heat in last Sunday's save versus the Blue Jays (which started the run). He's only gotten three with any pitch since then.
Taking What The Hitter Gives Him
In Francisco's last three appearances, he's thrown 24 pitches that a hitter has taken. He's gotten 12 called strikes. That's a very good rate, particularly compared to how he fared prior to that.
Frank Francisco
2012 Season
In his first 20 appearances, Francisco was getting called strikes on only 27 percent of his takes.
No More Pitching In
One of the big issues that Francisco had when he was struggling was that his inside pitches were getting hammered. Opponents were 9-for-23 with four doubles and a triple on his inside pitches prior to this five-game hot streak.
Francisco seems to have made the decision that he will rarely work inside. He was throwing the inside pitch at a rate of about once for every three pitches.
But in this five-game run, he's thrown only nine of 73 pitches on the inner-third or closer to the hitter. (about one of every eight pitches). He's worked both over the middle and to the outside part of the plate with greater frequency.
Right vs. Left
The heat map atop this piece shows Francisco's primary pitch locations to lefties and you can note that he's turned his attention to working them down and away. Left-handed hitters were hitting .361 with two home runs and seven walks against him prior to May 20.
But in the last five games, Francisco has retired all 10 left-handed hitters he's faced.