Right-hander Elvin Ramirez, who has wicked numbers against minor league batters this season, and Josh Thole are expected to join the Mets on Friday for the series opener against the St. Louis Cardinals, the Mets announced.
The team will not announce any corresponding moves until Friday. Unless the Mets temporarily go with three catchers, Mike Nickeas could be optioned to the minors over Rob Johnson. Chris Schwinden would be a logical bullpen piece to demote, since a long reliever likely will not be needed anyway after an off-day, and with Johan Santana and R.A. Dickey on tap.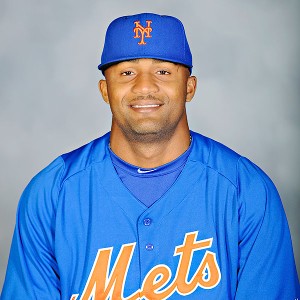 Courtesy of New York Mets
Elvin RamirezManny Acosta also cleared waivers and was outrighted to Buffalo. The Mets may have to make a few more roster moves soon, too, with Pedro Beato eligible to be activated from the DL on Sunday and Miguel Batista the following day. Chris Young pitched for Buffalo on Thursday, but may require another minor league start.
Ramirez as well as Beato (60-day DL) and Young are not counting against the 40-man roster at the moment, so eventually three spots will need to be cleared.
Thole, returning from a concussion, went 1-for-4 and caught a full game Thursday for the Triple-A Bisons.
Ramirez, 24, is an intriguing addition. After a promotion from Double-A Binghamton, he did not allow a run in 14 2/3 innings with Buffalo. In 11 International League relief appearances, he allowed five hits and one walk while striking out 19.
Ramirez opened eyes during the 2010-11 winter-ball season in his native Dominican Republic, compiling a 1.85 ERA for Gigantes del Cibao in 20 relief appearances. So during the Rule 5 draft at the winter meetings that December, while the Mets were selecting Beato from the Orioles and Brad Emaus from the Blue Jays, the Nationals grabbed Ramirez from the Mets.
Ramirez never did pitch in nearly a full year with the Nats. He had developed a shoulder issue while wowing in winter ball that ultimately led to late-March 2011 shoulder surgery while temporarily Washington property.
The Nats eventually returned him to the Mets in mid-October. They could have carried him into this season with the Rule 5 provisions still in place, but chose to no longer tie up the 40-man roster spot.
Ramirez's velocity sat at 93-94 mph late in his tenure this season with Binghamton, still shy of the 94-96 mph he tossed pre-shoulder issue. But the results speak for themselves. And the velocity has been creeping upward since Ramirez's first B-Mets outing, on April 6.
"One of the things I heard when he got Rule 5'd by the Nationals was that winter he was throwing extremely hard," B-Mets manager Pedro Lopez told ESPNNewYork.com last month. "His fastball was up to 99, 98 mph. After the injury he suffered -- he sat out last year -- the velocity is coming back slowly. I think in spring training he was throwing 90, 92. There's been a couple of times here where he's topped out at 96. Some of the pitching coaches that have seen him in the past say he looks healthy, and they think his fastball is going to come back again.
"But it's been impressive right now. He throws a fastball, slider and changeup. Right now they're pretty good. The thing I remember of Elvin from Savannah in 2008, he had the makings of a good changeup. Now he's got a really good changeup. And he throws it to right-handed hitters. I think that makes him real effective."