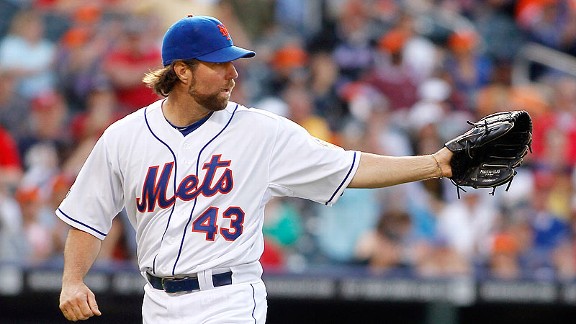 Mike Stobe/Getty Images
He didn't pitch a no-hitter, but R.A. Dickey was awesome on Saturday.NEW YORK -- R.A. Dickey says he wants to pitch a no-hitter every time he takes the mound.
OK. So he's never done that before.
And no, he didn't duplicate on Saturday afternoon what Johan Santana did for the first time in the now 8,021-game history of the Mets' franchise on Friday night.
But if there's any consolation for all that, Dickey is having his finest big-league season yet.
The 37-year-old knuckleballer threw his third career complete-game shutout, guiding the Mets to a 5-0 victory over the Cardinals at Citi Field.
Dickey gave up seven hits, walked none and struck out nine -- narrowly missing out on his third straight start with double-digit K's; he's fanned 38 combined in his last four outings.
"I just want to give us a chance to win every time out," Dickey said. "It's nice to follow Johan. It's fun to compete with him internally on who can have the better outing."
Dickey (8-1, 2.69 ERA) is tied for the MLB lead in wins -- he won eight games all of last season -- and has thrown 17 1/3 consecutive scoreless innings dating back to his final frame of work on May 22 in Pittsburgh.
"Last year he got off to a bit of a rough start and he was wild," manager Terry Collins said. "He's not that way this year. He's been locked in since spring training."
Dickey and Santana threw consecutive complete-game shutouts -- the first time that's happened for the franchise since the Mets accomplished the feat on Aug. 12 and 13, 2010.
The Mets (30-23) are currently on pace to win more than 90 games. A big reason why is their dynamic duo at the top of the rotation.
"They're showing it," Collins replied when asked if Santana-Dickey is one of the best duos in all of baseball. "They're showing that they can stop anybody."
Just how good was Dickey on Saturday afternoon? Check out these nuggets from ESPN Stats & Information:
• Dickey did not go to a three-ball count until the final batter of the game. He went to only one 2-0 count all game.
• No plate appearance against Dickey lasted more than five pitches. He's the first pitcher since the start of 2009 to do that in a shutout.
• Dickey got 21 swings-and-misses, his most since the start of 2009.
• Cardinals hitters were 0-for-16 in two-strike at-bats.
Asked about possibly participating in the All-Star Game, Dickey said he wasn't going to think about it. It's too far away, he said.
Given the way he's pitching right now, though, Dickey may end up starting it.