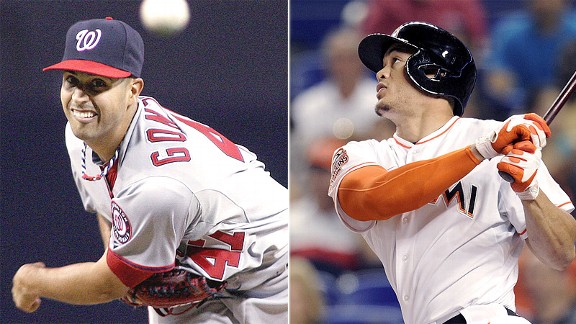 US Presswire
Gio Gonzalez (left) and Giancarlo Stanton (right) topped the Mets' R.A. Dickey and David Wright for the NL's monthly awards.
David Wright and R.A. Dickey had strong performances in May, but both were passed over for the National League monthly awards.
Washington's Gio Gonzalez was named NL Pitcher of the Month. He was 5-0 with a 2.25 ERA in May. Gonzalez had a league-leading 45 strikeouts, in 32 innings. Dickey, listed among others receiving consideration, was 4-0 with a 1.83 ERA for the month, with 33 strikeouts in 34 1/3 innings.
Other strong May pitching performances were turned in by Cole Hamels (5-0, 2.25) and ex-Met Chris Capuano (4-1, 1.62).
Miami's Giancarlo Stanton was named NL Player of the Month. Stanton hit .343 with 12 homers. Wright hit .347 with 13 doubles, two homers and 16 RBIs in May.
Washington's Bryce Harper was the NL Rookie of the Month.