Chris Young's success in a Triple-A start on Thursday suggested he was ready to return to the majors after undergoing May 16, 2011, surgery to repair a torn anterior capsule in his pitching shoulder.
If Young needed further validation a pitcher can successfully return from the relatively new procedure, though, he received it the following day. Johan Santana, who underwent the same surgery eight months before Young, produced the first no-hitter in Mets history Friday.
Young will deliver his first major league pitch since May 1, 2011, when he starts Tuesday in Washington.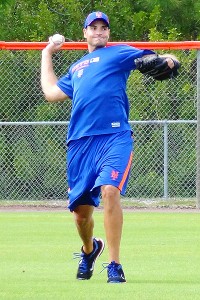 Adam Rubin
Chris Young makes his season debut Tuesday with the Mets at Washington.
"It's so inspiring to see that, to see the success that he's had," Young said about Santana. "We've had good conversations along the rehab process. And he's always been encouraging and said, 'Hey, it's going to happen. You'll get there.' And then to see him go out and get the results and the success, it's inspirational. I'm so happy for him. I was watching the other night with my wife. With every pitch, we were on the tips of our toes just cheering for him."
Tearing the anterior capsule can result in the ball slipping forward in the shoulder socket during the delivery. Young felt discomfort in the back of his right shoulder before his surgery, even though the tear was in the front of the capsule, because the rear ligaments that remained intact were stretching as the ball slipped forward in his socket.
Team doctor David Altchek, who performed both procedures, said during spring training he expected the success rate for pitchers returning from this surgery to be better than other shoulder operations because the blood flow where the anterior capsule is located is better. Still, such a limited number of pitchers have undergone the procedure that not much hard data exists. Among the few pitchers to have surgery to repair a torn anterior capsule: Bret Saberhagen (1996), Mark Prior (2008), Chien-Ming Wang (2009), Dallas Braden (2011) and Rich Harden (2012).
Three of those seven pitchers may see action in the D.C. series. Santana tentatively is scheduled to oppose Wang on Thursday.
Prior has risen to Triple-A with Boston in his comeback bid.
"Time will tell, but I'd say the more guys that recover from it, the better results and data you'll get," Young said. "Like I said going into this, Tommy John surgery was an experiment the first time it happened, and now you see the success rate there. And I think the shoulder is not quite as simple as the elbow when it comes to that. But, hopefully, this will continue to have great results and there will be more people to bounce back from this the way Johan has, and Chien-Ming Wang, and hopefully myself."
Young, 33, has made four minor league starts since re-signing with the Mets late in spring training. None has been on standard rest, but Young will pitch on the fifth day in his MLB return.
In his final minor league start, he tossed six scoreless innings against Triple-A Columbus, allowing two hits and three walks. Young at one point and had a nine-day gap between starts while with Class A St. Lucie, but he described that as a common spring-training "dead-arm" period and not particular to the surgery. He went home during that layoff to spend time with his pregnant wife. Doctors plan to induce labor after Young's start Tuesday.
"I had (thrown) I can't remember how many consecutive batting practices into simulated games and then extended games and then real games," Young said. "At that point it was like a normal spring for me where at a certain period you go through a dead arm. I went in and I said, 'Look, I could use a few extra days right now. I don't want to take any risk. It's coming along. It's come so far and there's no need to push through something where it's a little fatigued.' I got over it and it's felt great since then."
Miguel Batista will be activated from the DL on Tuesday to back up Young, who may not throw more than 90 pitches.
"I went to Buffalo and I felt good. The results were good," Young said. "The swings, to me, indicated I could pitch at the next level. To me that was really what I wanted to see."