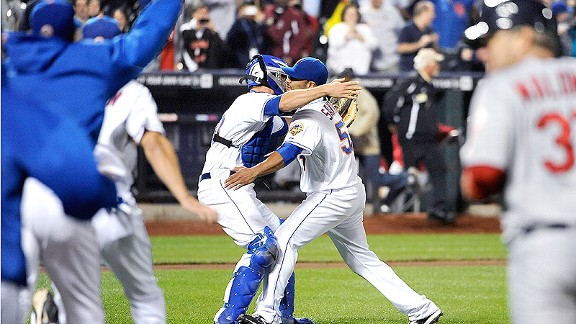 AP Photo/Kathy Kmonicek
The Mets celebrate their 43rd-best (or best, depending on perspective) pitching performance.
They Said It
"The key for a pitcher is to throw a 'ball' that looks like a strike."
-- former Met Orel Hershiser on Sunday Night Baseball earlier this season.
That was one of the biggest stories for Johan Santana in his no-hitter. The Pitch F/X system that tracks pitches in every major league ballpark had Santana throwing a pitch in the strike zone only 36 percent of the time (35.8 to be exact).
That's the lowest "in-the-zone" percentage for any Mets starter who threw at least 100 pitches in a game since Bobby Parnell threw only 35 percent of his pitches in the strike zone against the Marlins on September 10, 2009.
Highest Game Score in Start
9-Inning Game, Mets History
Put another way, Santana's 86 "out of the strike zone" pitches were the most by anyone in a game since Matt Garza threw 87 against the Yankees on September 7, 2009.
The five walks hurt Santana's chances of recording the highest Bill James Game Score in Mets history.
This stat rates starts, usually on a 0-100 scale, based on innings pitched, runs, hits, strikeouts, and walks. Santana's no-hitter rated a 90.
There have been 42 Mets starts that rated higher, though some did so because of starts that stretched into extra innings.
The highest in a nine-inning game are noted in the chart on the right.
For more no-hitter notes, click here.
R.A. = Really Awesome (We Keep Saying That!)
It wasn't a no-hitter, but R.A. Dickey pitched a shutout on Saturday, marking the third time that Mets starting pitchers tossed consecutive shutouts against the Cardinals. The other two instances happened in 1968 (Jim McAndrew and Dick Selma) and 1976 (Mickey Lolich and Jon Matlack).
Won 3 Straight Starts
30+ K, 0 or 1 Walks
Elias noted that it had been 20 years since any pitcher tossed a complete-game shutout in the immediate wake of a teammate's no-hitter, with Pedro Astacio being the last pitcher to do so. Astacio pitched a six-hit shutout over the Mets in August 1992, one day after his Dodgers teammate Kevin Gross no-hit the Giants.
Lastly, via an ask by my Stats & Info colleague, Rachel Eldridge, Elias noted that the loss by the Cardinals marks the first time in MLB history that the reigning World Series champion had back-to-back shutout losses where one of those losses was a no-hitter.
Dickey induced 21 swings-and-misses. In the last four seasons, only Santana (in 2009 against the Marlins) and Chris Capuano (in his shutout of the Braves last season) have netted more swings-and-misses in a game for the Mets. Each got 22.
Wright On
David Wright reached base via hit walk or hit by pitch for the 100th time when he homered in Saturday's win. It was Wright's 49th game of the season. Elias notes that the only other player in Mets history who reached base at least 100 times through his first 50 games of a season was John Olerud in 1999.
Unlikely Company
In Sunday night's win, Jonathon Niese became the third Mets pitcher to strike out 10 Cardinals in a game in which he pitched six or fewer innings. The other two? Hall-of-Famers Tom Seaver (1970) and Nolan Ryan (1971).
Niese was part of a run in which the Mets pitched 25 straight scoreless innings, and Mets starters pitched 27 straight scoreless frames.
Hitting in a Pinch
Scott Hairston's game-tying pinch-hit homer on Monday was his fifth pinch-homer within the last calendar year.
It tied him with third-base coach Tim Teufel, Matt Franco and Ron Swoboda for fourth-most pinch-homers in Mets history. Mark Carreon leads with eight.