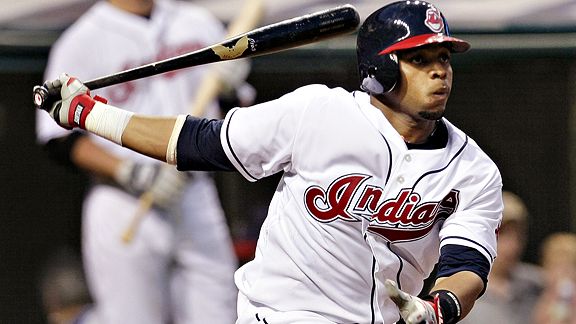 AP Photo/Tony Dejak
Rookie catcher Carlos Santana made his major league debut Friday for the Cleveland Indians.
METS (35-28, second place/NL East) at INDIANS (25-37, fifth place/AL Central)
Tuesday: LHP Johan Santana (4-3, 2.96) vs. RHP Justin Masterson (2-5, 4.74), 7:05 p.m. ET
Wednesday: LHP Jon Niese (3-2, 3.61) vs. RHP Mitch Talbot (7-4, 3.59), 7:05 p.m. ET
Thursday: RHP R.A. Dickey (4-0, 2.78) vs. RHP Jake Westbrook (4-3, 4.62), 7:05 p.m. ET
Indians short hops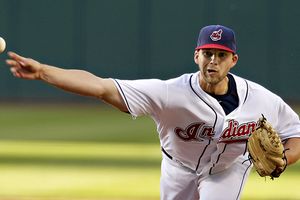 AP Photo/Tony Dejak
Right-hander Justin Masterson fired a two-hit shutout against the Boston Red Sox in his most recent start.
Switch-hitting catching prospect Carlos Santana debuted Friday, batting in the No. 3 hole. Santana was hitless that day, but produced his first major league homer and also a two-run double Saturday against Washington's J.D. Martin. Santana should have a solid mentor in Sandy Alomar Jr., who left his Mets job as bullpen coach after last season to join first-year manager Manny Acta's Indians staff as first base coach and catching instructor. Lou Marson (.191, 1 HR, 12 RBIs) was sent to Triple-A Columbus. Mike Redmond (.208, five RBIs), who had been Fausto Carmona's personal catcher, remains the backup but should see only limited action. … Anderson Hernandez, who was claimed off waivers from the Mets at the end of spring training, replaced infielder Mark Grudzielanek last week. Grudzielanek, who was released, had been dealing with a hamstring strain. Cleveland also needed a bona fide backup shortstop on the roster with Asdrubal Cabrera out with a fractured left forearm, which he suffered May 17 in a collision with teammate Jhonny Peralta while pursuing a single by Tampa Bay's Hank Blalock over second base. Rookie Jason Donald has taken over primary responsibilities at shortstop. Donald, who made his major league debut May 18, came to the Indians two days before last season's trading deadline with Carlos Carrasco, Jason Knapp and Marson for Cliff Lee and Ben Francisco. … The Indians officially released right-hander Jamey Wright (1-2, 5.48 ERA in 18 relief appearances) the same day as Grudzielanek. … Right-hander Justin Masterson tossed a two-hit shutout of Boston on Wednesday -- the first complete-game two-hitter by an Indians pitcher since Scott Elarton in 2004. Masterson, 25, is 2-0 with a 1.70 ERA in his past three starts. He had been acquired from the Red Sox last July 31 with minor leaguers Bryan Price and Nick Hadagone for Victor Martinez. Masterson's June 4 win against the Chicago White Sox snapped a personal 11-game losing streak. His 17 straight starts without a win had set a franchise record. … Right fielder Shin-Shoo Choo has an 11-game hitting streak. The South Korean ranks 12th in the American League in on-base percentage at .392. Choo, who was the American League Player of the Week for April 11-18, leads the Indians with 32 RBIs, one ahead of left fielder Austin Kearns and Peralta. … Right-handed reliever Frank Herrmann is a Harvard graduate with an economics degree who hails from Rutherford, N.J. He originally was signed by scout Phil Rossi as an undrafted free agent. Herrmann has a long scoreless streak intact. He has opened his major league career with 4 2/3 scoreless innings. Previously at Triple-A Columbus, he did not allow a run in his final 27 1/3 innings. Herrmann did surrender a triple to Washington's Ian Desmond on Sunday that permitted two inherited runners to score. … First baseman Russell Branyan, who signed Feb. 24 and opened the season on the disabled list, is hitting .254 with eight homers and 20 RBIs in 138 at-bats. … Center fielder Grady Sizemore underwent season-ending microfracture surgery on his left knee June 4. Trevor Crowe, who started the season at Triple-A Columbus, now mans the position. Crowe fouled a ball off his right knee Saturday and ultimately left that game, but he returned to the lineup Sunday. … Sidearm reliever Joe Smith, who ended up with the Indians in the three-team deal that landed J.J. Putz, Sean Green and Jeremy Reed with the Mets on Dec. 11, 2008, is 2-1 with a 1.89 ERA and two saves at Columbus. Smith began the season with the Indians, but was demoted after allowing six runs in seven innings in April. … Nationals phenom Stephen Strasburg limited the Indians to a solo homer by designated hitter Travis Hafner on a 100 mph fastball and one other hit Sunday, although he walked five and required 95 pitches to navigate 5 1/3 innings. Hafner has three homers in his past five games. … Closer Kerry Wood turns 33 Wednesday. He is 1-2 with an 8.74 ERA and four saves in six chances since making his first appearance of the season May 8. Wood opened the season on the disabled list after straining a right lat during spring training. … Left-hander Tony Sipp has allowed 15 runs in 2 1/3 innings over his past seven relief appearances. During that stretch, he's allowed 14 hits -- including five homers -- as well as five walks. His opponent batting average since May 28 is .700. He had allowed three runs in 18 innings to open the season. Sipp raised eyebrows Friday and got a baseball-etiquette lecture from Acta for heading toward the dugout during a pitching change before the manager arrived at the mound to take the baseball from him. … Ex-Yankee Shelley Duncan joins dad Dave as the sixth father-son combo in Indians history. The others: the Averills, Bagbys, Franconas, Bells and Carreons. … Rookie Mitch Talbot has walked 31 batters and struck out 34 in 77 2/3 innings, but nonetheless is 7-4 with a 3.59 ERA. Talbot is 3-0 with a 1.57 ERA against the White Sox this season. He made three appearances, including one start, with Tampa Bay in 2008 and was traded to the Indians in December for catcher Kelly Shoppach. … Sinkerballer Jake Westbrook is making $11 million and is a free agent after the season, but the Cleveland Plain Dealer's Paul Hoynes reports "there's a good possibility" the Indians hold him and try to re-sign the right-hander after the season. Hoynes notes, however, that Peralta, Kearns, Branyan, Redmond and Wood all are in the final years of deals and are candidates to be traded. … Andy Marte was activated last Monday. He had landed on the disabled list May 15 with an infected ingrown hair that required abdominal surgery. … Kearns' fifth career two-homer game came against the Washington Nationals, his former club, on Friday.
Matchups
Santana vs. Indians (career: 7-7, 3.42 ERA)
Russell Branyan .333, 1 RBI, 3 AB
Austin Kearns .167, 12 AB
Travis Hafner .150, 4 HR, 6 RBIs, 40 AB
Anderson Hernandez .143, 1 RBI, 7 AB
Jhonny Peralta .107, 1 RBI, 28 AB
Andy Marte .000
Niese vs. Indians (career: never faced)
Dickey vs. Indians (career: 1-0, 3.70 ERA)
Shin-Soo Choo .333, 3 AB
Travis Hafner .167, 6 AB
Jhonny Peralta .000, 5 AB
Russell Branyan .000, 1 AB
Shelley Duncan .000, 1 AB
Andy Marte .000, 1 AB
Luis Valbuena .000, 1 AB
Masterson vs. Mets (career: 0-0, 3.00 ERA)
Angel Pagan 1.000, 1 RBI, 1 AB
Rod Barajas .000, 2 AB
Jeff Francoeur .000, 1 AB
David Wright .000, 1 AB
Talbot vs. Mets (career: never faced)
Jason Bay .000, 2 AB
Westbrook vs. Mets (career: never faced)
Henry Blanco .300, 1 RBI, 10 AB
Last series results:
Mets won 2-1 at Shea Stadium, June 15-17, 2004 (AP game recaps)
Mets 7, Indians 2: Maybe all the New York Mets needed was a new hitting coach. Don Baylor said it was nothing more than a coincidence, but hours after he became the Mets hitting coach, replacing Denny Walling, the team busted out with an uncharacteristic 14 hits. And yet, there was a moment when it seemed the Mets bases-loaded rut was going to get them again after four straight hits put New York ahead 1-0 in the first inning. Stuck in a 6-for-59 bases-loaded slump that helped cost Walling his job, the Mets watched Karim Garcia strike out in that situation in the first inning. Baylor noticed the tension quotient increase in the dugout. Mike Cameron was having none of that. Cameron, battling to keep his batting average above .200, was 0-for-7 with the bases loaded this season. This time, though, he singled to left for a pair of runs and instead of a 1-0 lead, the Mets were up 3-0. Cameron, conducting his postgame interview flat on his back in his "Total Body Relaxation" position, said the hit was no big deal for him. When the Mets added four runs in the fifth, two on a double by Ty Wigginton, who had three hits, and two on a home run by Garcia, the Mets had their most runs since May 21. It was just the 10th time in 63 games New York had scored that many in a game. Mike Piazza also had three hits while Cliff Floyd added two in a 14-hit attack for the Mets, who had lost seven of their last nine games. Todd Zeile started the first-inning rally with a one-out single and moved to third when center fielder Coco Crisp mishandled Piazza's hit. Floyd singled Zeile home and Wigginton followed with the fourth straight single, loading the bases. Jason Davis (1-5) struck out Garcia, extending the bases-loaded slump to 6-for-60, but Cameron delivered a two-run single for a 3-0 lead. The Indians nicked Steve Trachsel (6-5) for a run in the fourth when Victor Martinez walked, moved to third on a single by Travis Hafner and scored on a sacrifice fly by Casey Blake. But the Mets ganged up on Davis in the fifth. Piazza and Floyd opened with singles and Wigginton doubled both runners home. Then Garcia finished Davis, hitting his seventh homer of the year on an 0-1 pitch for a 7-1 lead. Trachsel gave up another run in the seventh on a double by Blake and a single by Crisp before turning the game over to the Mets bullpen.
Indians 9, Mets 1: C.C. Sabathia is confident the wins will come more frequently if he has more outings like the one he had against the New York Mets. Sabathia (4-3) allowed one run and six hits in eight impressive innings. He struck out three and walked one, helping the Indians win for the ninth time in 12 games -- and move within a game of .500 at 31-32. Sabathia lowered his ERA to 2.95, and has won his last two decisions. Rick White pitched the ninth to complete the six-hitter. Casey Blake hit a two-run homer, and Omar Vizquel and Victor Martinez each drove in two runs for the Indians. Sabathia also had one of Cleveland's 14 hits, a single in the second inning. Leading 2-1, the Indians broke it open with three runs in the sixth. Blake led off with a double, went to third on Jody Gerut's single and scored one out later on a wild pitch by Matt Ginter (1-1). Outfielder Coco Crisp followed with a grounder to the mound that Ginter fielded, but threw high to Mike Piazza, pulling the first baseman off the bag. First-base umpire Mike DiMuro ruled Crisp was safe, bringing manager Art Howe out of the dugout. After a few minutes of arguing, Howe was tossed by DiMuro. Mike Stanton came in and struck out Sabathia, but walked Matt Lawton to load the bases. Stanton gave up a two-run single to Vizquel before getting Travis Hafner on a flyout to end it. Ginter, who received his first major league loss, allowed five runs -- three earned -- in 5 1/3 innings for the Mets, who made three errors as their modest two-game winning streak was stopped. Martinez hit an RBI double -- his second of the game - in the ninth. The Indians scored again on a wild pitch by Tyler Yates, and Blake made it 9-1 with his ninth homer. The Indians took a 1-0 lead in the first on Martinez's RBI double. Cleveland added another run in the fourth when Crisp beat out a double-play grounder, allowing Gerut to score. Gerut hit a one-out double and Ronnie Belliard singled to put runners on first and third. Crisp followed with a grounder to short that Kaz Matsui fielded and flipped to Ty Wigginton for the force out, but Crisp barely beat the second baseman's throw to first. Howe came out and briefly discussed the call with DiMuro. Cliff Floyd pulled the Mets to 2-1 with a sacrifice fly that scored Matsui in the bottom of the inning. Sabathia got in trouble in the fifth, when the Mets had runners on second and third with one out, but he struck out Ginter looking and retired Gerald Williams on a groundout.
Mets 6, Indians 2: For a guy who once hit four home runs in a game, the dry spell Mike Cameron was struggling through was starting to get him down. Cameron hadn't homered since May 10 until he connected in the series finale against the Cleveland Indians. There was a touch of urgency to Cameron's at-bat in the fifth with the game still scoreless and rain in the air. Cameron is playing in pain because of a damaged pinkie injured in a slide home early in the season. His batting average plummeted below .200, but manager Art Howe is sticking with him -- largely because of his defense. Cameron's homer in a game delayed 1 hour, 49 minutes by rain after the fourth inning gave him a five-game hitting streak during which he's batting .333. The Mets tried to improve their offense earlier in the day, acquiring outfielder Richard Hidalgo from Houston for pitchers David Weathers and Jeremy Griffiths. Kaz Matsui had another bases-loaded hit that delivered two runs in the seventh after the Indians botched a bunt play, leaving no one to cover first base. In the seventh, Cameron reached on a throwing error by third baseman Casey Blake and stole second. After Eric Valent was walked intentionally, pinch hitter Joe McEwing bunted, and everyone was safe when Ronnie Belliard failed to cover first base. Matsui followed with a two-run single up the middle. It was just the eighth hit in 62 chances with the bases loaded for the Mets. McEwing scored when Todd Zeile hit into a double play. His two hits extended his hitting streak to six games during which he is batting .476. Five Met pitchers combined on a five-hitter with the win going to Ricky Bottalico (3-1), who replaced starter Jae Seo after the long rain delay. Seo, battling to retain his spot in the Mets starting rotation, worked four effective innings, allowing two hits and striking out six before the rain. After Bottalico, John Franco, Mike Stanton and Braden Looper finished up. Omar Vizquel ruined the shutout bid with an RBI groundout in the ninth off Looper, and Travis Hafner added an RBI double. Cameron's eighth homer of the season came in the fifth against Rick White (3-2), who relieved starter Scott Elarton following the rain delay. Elarton made his second start for the Indians after being released by Colorado, where he went 0-6 and allowed just one hit before the rain prevented his return to the game. The Mets scored in the sixth when Matsui opened with an infield single and Todd Zeile walked. Mike Piazza and Cliff Floyd struck out, but Ty Wigginton delivered a two-out RBI single against reliever Matt Miller. Karim Garcia hit an RBI single in the eighth to make it 6-0.