The brief glimpses of 20-year-old Wilmer Flores' transition to third base when he was borrowed from minor league camp during spring training suggested a work in progress. Flores, in fact, committed four errors in two Grapefruit League games at Lakeland during a three-day span in mid-March, during the early stages of the reassignment.
Moved off shortstop because of his larger, 6-foot-3 body frame and because of limited first-step explosiveness that made him more conducive to playing the corner, Flores is making strides.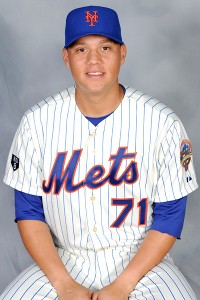 Courtesy of New York Mets
Wilmer Flores
His offensive revival in his third season with Class A St. Lucie has put the native Venezuelan on track toward a promotion to Double-A Binghamton.
Flores is hitting .314 with 10 homers and 35 RBIs through 204 at-bats for St. Lucie, which clinched the South Division first-half title in the Florida State League on Saturday.
He is one of seven St. Lucie players selected to the FSL All-Star Game, joining right-hander Cory Mazzoni, left-handers Adam Kolarek and Chase Huchingson, catcher Blake Forsythe, shortstop Wilfredo Tovar and outfielder Cory Vaughn.
"It's a different position," Flores said about third base. "It's been very good. I'm still adjusting to it. But I think I like it. The ball gets to you really quick. I think the key is I've got to stay lower than at shortstop. I've just got to stay lower and have more reaction."
Flores until this season exclusively had played shortstop in the Mets system since signing for $750,000 the day after his 16th birthday in August 2007. He did have significant exposure to second and third base, though, in winter ball with Margarita in his native country in recent offseasons.
So far this year, Flores only has played third base. He has not even taken pregame grounders at shortstop or second base, he said.
Still, a forced diversification may have to happen in the second half.
The Mets have Jefry Marte (.293, 4 HR, 27 RBIs), another well-regarded prospect, manning third base with Binghamton. And Marte will not be ready to be promoted to Triple-A Buffalo to coincide with Flores' move to the B-Mets. So Flores, Marte and former first-round pick Reese Havens likely are going to have to do some position sharing between first, second and third base.
Although he still is viewed, like Flores, as a third baseman, Marte did see action in 11 games at first base when he played in the Arizona Fall League in October and November. Marte also has worked out at second base in the past, which is Havens' primary position.
"Whenever they feel like I'm ready to move up," Flores said about a promotion.
Flores' stock might have fallen slightly in recent seasons. Scouts looked at his body language and wondered about him. But Mets officials say any lax appearance is a misjudgment by observers. They say Flores can recite for them after games why he shaded a hitter a particular way or a specific pitch sequence he faced, demonstrating his concentration level.
Regardless, Flores clearly is having a revival this year. He hit .269 with nine homers and 81 RBIs and had a .309 on-base percentage while playing 133 games last season with St. Lucie.
"Right now, I'm just trying to swing at more good pitches," he said. "I'm just trying to minimize my strike zone -- just swing at strikes, you know?"
As for his 10 homers, which already are one shy of matching the career high he produced between low-A Savannah and St. Lucie two years ago, Flores acknowledged the total was a little surprising.
"Yeah, but that's what happens. You don't have to be a strong guy," he added. "You have to put a good swing on it. That's what I've been working on."
LOOK FOR PART II OF THE FARM REPORT AROUND NOON, WITH ORGANIZATIONAL STANDINGS AND PLAYER NOTES.
Adam Rubin's farm report appears Wednesdays during the regular season