WASHINGTON -- Terry Collins said he did not insert Jason Bay in the lineup Wednesday, the day he was activated from the DL, because Bay had a long travel day from Port St. Lucie, Fla., and is still suffering the effects of a cold/sinus infection.
Collins promised, though, that Bay would be in the lineup Thursday, for the series finale in D.C.
What's the outfield plan after that? Collins said he did not need to decide now, because of the availability of a DH for six straight games beginning Friday.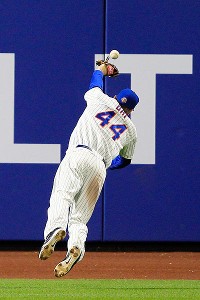 Chris Trotman/Getty Images
Jason Bay fractured a rib attempting this fourth-inning catch off the bat of Gregor Blanco on April 23.
Collins said Bay is too good a left fielder to exclusively confine him to DH during interleague play. So Bay mostly should see outfield duty in the AL parks, according to the manager.
Bay went 2-for-9 with two walks, a steal, sacrifice fly and four strikeouts in three rehab games with Class A St. Lucie -- only the final one in the outfield, on Tuesday night.
He said doctors mandated avoiding the outfield for six weeks from the time of his April 23 rib fracture on an attempted catch.
"It feels fine," Bay said. "It's felt good for about the last week or so. It was just kind of getting back into game shape and what have you. I got derailed a little bit by the cold for an extra day or two. But I feel pretty good now. From what I was told, and from what I feel, it feels completely healed. It kind of felt that way at about five weeks.
"But from talking to the doctors, the manner in which I did it, they felt that the safe play was six weeks [of inactivity]. I could come back and not dive for a month. Or I could dive on the first play. And they thought that six-week mark was the time when I wouldn't be at risk to do it again."
As for the big question: Would Bay have caught the fly ball Mike Baxter corralled to save Johan Santana's no-hit bid?
"I hope so. I probably would have suffered the same fate, though," Bay said, referring to Baxter's displaced right collarbone and rib cartilage fracture. "That was a do-or-die. I heard someone say every no-hitter has a signature play or something like that. He definitely paid the price, but I'm sure he wouldn't change that for the world. That was awesome."