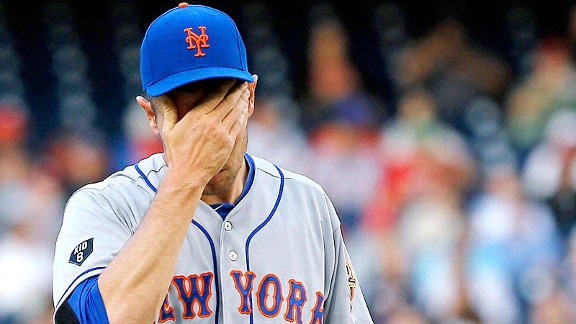 Alex Brandon/Associated Press
Jeremy Hefner expresses disappointment during the first inning. He allowed a three-run homer.WASHINGTON -- Daniel Murphy flubbed a potential double-play grounder and had to settle for the out at first base in the series opener. Then he committed two errors in Wednesday's 5-3 loss to the Nationals, upping his season total to nine.
Afterward, Murphy stated the obvious: Second base remains a work in progress.
Murphy kicked Bryce Harper's grounder into the outfield in the first inning. Jeremy Hefner then walked Ryan Zimmerman, placing two runners on base ahead of Adam LaRoche's eventual three-run homer.
"He never should have been in that situation to begin with," Murphy said about Hefner. "It's frustrating. The learning curve is still there. It's not something I'm happy about. The game we lost last night, if I make that play cleanly, even if we get one, we get the lead runner and they don't get in the situation to drive in the tying run.
"You don't have to look any farther than this locker here where to start with some of our poor play the last couple of days. It starts right here."
Murphy, still homerless this season, is now hitless in his past 14 at-bats. Terry Collins expressed concern Murphy is a perfectionist who fiddles too much in the cage the instant he does not have success, although Murphy dismissed that worry.
"Dan knows hitting, but those guys who know hitting tinker," Collins said. "... He likes to work on things. A lot of hitters do that. You know, they're 0-for-4 and they think something's wrong. They've got to change where their hands are. They've got to move their feet. They've got to do something. Change their grip. That's how they are. The next thing you know they get themselves into a little bit of a funk."
Insisted Murphy: "I feel like I'm in the same I was three days ago when I went 2-for-4 back-to-back."
Collins was disappointed with the Mets' communication in the seventh. With Josh Thole trying to get Tim Byrdak to appeal to second base on Steve Lombardozzi's tag-up, Byrdak instead delivered a pitch, leaving his infielders surprised and unprepared. It turns out that replays showed Lombardozzi did not leave early anyway.
"He pointed to second base," Byrdak said about Thole. "... It was kind of confusing when he got behind home plate and he put a signal down. I threw a pitch. He wanted to appeal it. Just a miscommunication out there."
Said Collins: "We've got to communicate better. ... He didn't hear him say, 'Hey, we're appealing to second.' All he heard was, 'Hold and step off.' Certainly when he delivered to home plate he caught a lot of people by surprise."
Hefner said there was no carryover from Murphy's error or the subsequent walk that contributed to him serving up the costly three-run homer to LaRoche.
"I was trying to 'backdoor' it," Hefner said, referring to the curveball LaRoche sent over the right-field wall. "First pitch. Get a strike. And I pulled it over the middle and it hung for him to get it right there on the teeth. He did what he was supposed to do with that pitch. ... That's all I can say about it is I just made a bad pitch. I wasn't flustered."
It's entirely conceivable Hefner is optioned to Triple-A Buffalo when Chris Young returns from paternity leave this weekend. But there apparently is no momentum to send Hefner down before Thursday's game, since Hefner would be unavailable anyway. Such a move would allow the Mets to bring in a relief arm in the interim, until Young returns.
"Whatever capacity they need me to be in -- either here or in Buffalo -- I'm on board for that," Hefner said.