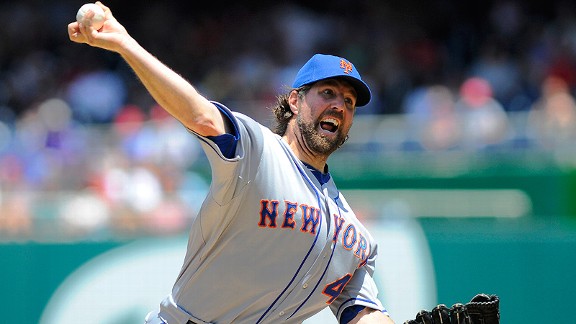 Brad Mills/US Presswire
R.A. Dickey continued to post scoreless innings as he picked up his MLB-leading ninth win.
WASHINGTON -- Knuckleballer R.A. Dickey owns the most wins in the majors at nine and already has exceeded his 2011 total. And he is now one inning from the longest scoreless-innings streak in the majors this season, which he can achieve when he pitches at Tampa Bay next week.
Dickey logged 7 1/3 shutout innings in the Mets' 3-1 win Thursday afternoon at Washington, running his scoreless streak to 24 2/3. He is one out shy of matching the the Nats' Gio Gonzalez, who hurled 25 scoreless innings earlier this season.
Dickey's streak is the longest by a Met since Mike Pelfrey produced 27 straight scoreless innings in 2010.
ZEROES
R.A. Dickey is within one out of the longest scoreless-innings streak in the majors this season. His is the only below that remains active.
St. Louis' Lance Lynn will try to match Dickey's MLB-leading win total when he pitches Thursday night against Houston.
"He has the best command of the knuckleball of anybody I've seen," Mets manager Terry Collins said about Dickey. And I've seen [Tim] Wakefield and [Steve] Sparks and Dennis Springer, Charlie Hough. He's got the best one. And today's was the hardest one I've seen him have in quite a while."
Said Dickey: "I feel comfortable with where I am with the pitch. There's been times in my career with the knuckleball, especially since I've been with the Mets, where I felt like I've been in a pretty good groove with it, but I haven't been able to do some things that I've wanted to do. Now, recently, I feel like I've had some more weapons at my disposal."
The Mets had considered pitching Dickey on short rest Wednesday in D.C., which would have allowed Johan Santana to pitch with one day of extra rest and eliminated the need for Jeremy Hefner to start. Collins opted to keep Dickey on his normal rest in order to keep him in the current groove, with Santana starting Friday in the Bronx.
Dickey responded by winning his career-high seventh straight decision and running his scoreless streak to within seven innings of matching Jerry Koosman's franchise-record 31 2/3, achieved in 1973.
Collins removed Dickey at 105 pitches, with one out in the eighth and Jhonatan Solano on first base. Bobby Parnell walked Rick Ankiel but eventually stranded both Nats in scoring position.
"That's a situation there where you just don't want to make a mistake because I'm getting a little bit fatigued or whatever," Dickey said about his removal. "I understood. That's part of it. That's OK."
Said Collins: "He reaches that certain stage where he starts to make mistakes upstairs. Ankiel is one of those guys that really gets him. Bobby had a good outing against him the other night. So I just said, 'Right now this is the guy we've got to get out. We'll worry about the rest later.'"
Dickey, who has openly called for a contract extension beyond his current 2013 team option, has enjoyed this level of success in part because he seems to actually know where his knuckleball is headed.
"I will say this: As far as the different elevations of knuckleball, I do have a better idea and a better sense of how to do that consistently now," Dickey said. "And, look, it's a knuckleball. So it can be fickle. Even though I think I have a good idea, there's certain times where I've tried to elevate a knuckleball and the bottom has fallen out of it. I'm not saying I've mastered anything. But I certainly feel better with being able to reproduce certain locations for the knuckleball.
"That can be a weapon. It's like an elevated fastball. If it spins the same, and they're anticipating it going down for a strike, and it stays up, they'll swing underneath it. So I continue to cultivate that."
As for halting the Mets' three-game losing streak, Dickey said: "I don't ever consider myself a stopper of any kind. But I would consider myself a starter -- a starter of a streak. Hopefully we can carry this momentum into New York and go from there.
"We've got a pretty good guy going tomorrow."