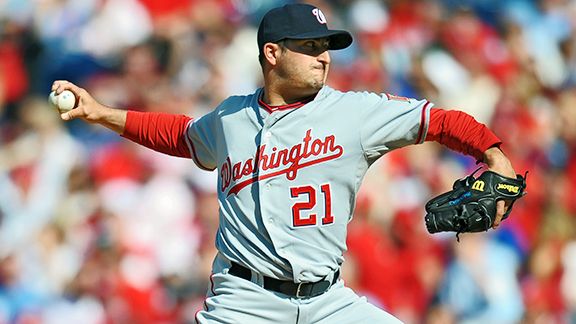 Drew Hallowell/Getty Images
Jason Marquis wanted to be a Met as a free agent last offseason, but the Mets didn't believe he was worth the two years, $15 million offered by the Washington Nationals.
LUCKY OR DISCIPLINED … OR BOTH?
Which one of these apply to the Mets during the past offseason:
Shrewd?
Frugal?
Fortunate?
What about, perhaps, all of the above -- the Gary Matthews Jr. trade notwithstanding?
The Mets ultimately did not make any notable starting pitching additions this past winter, instead settling for unheralded and inexpensive pickups such as R.A. Dickey and Hisanori Takahashi, who both originally signed minor league deals.
Part of it, of course, was a miscalculation on the Mets' part, since GM Omar Minaya during the offseason publicly reasoned that Oliver Perez and John Maine were the equivalents of anything available via free agency.
Part of it was choosing to spend what resources were available on a power-hitting outfielder in Jason Bay, who commanded four years, $66 million.
And part of it simply was being spurned. The Mets privately stated as far back as January that they thought they had the best offer for Joel Pineiro, and that the pitcher was not sincere in his interest in the Mets. Pineiro signed with the Los Angeles Angels for two years, $16 million and is 5-6 with a 4.77 ERA.
Among the other free-agent pitchers:
Jon Garland appears the lone true value. He signed with the San Diego Padres for one year, $5.3 million and is 6-4 with a 2.81 ERA.
Jason Marquis, a Staten Island native who made no secret of his desire to join the Mets, instead signed with the Washington Nationals for two years, $15 million. He opened the season 0-3 with a 20.52 ERA and has since undergone surgery to remove bone chips from his right elbow.
Randy Wolf, meanwhile, joined the Milwaukee Brewers for three years, $29.75 million and is 4-6 with a 5.31 ERA.
John Lackey was the big-ticket purchase at five years, $82.5 million with the Boston Red Sox.
"I don't know about fortunate," assistant GM John Ricco said. "That was part of the offseason strategy. We went after Jason (Bay) as the first offseason target. We looked at the winter meetings at the landscape and said, 'Where do we feel we want to focus our attention?' We made a decision. We just, at the prices, didn't think there was anything there that made sense at the time. Yeah, we're happy the guys are doing what they're doing. But it's not even the All-Star break yet. At the end of the year we'll look back and analyze that a little bit further."
Because part of the logic centered on Perez and Maine producing, it's not exactly like the Mets could afford to gloat anyway.
"That's part of it where you can't be totally happy," Ricco acknowledged. "We just looked at all of the multi-year deals with pitchers done over the years. When we did our determination on value, we just decided there was nothing at our price. We had interest in Pineiro, but he ended up going (to the Angels). We had some interest in Marquis, but he got more money. So it wasn't all 'we made a decision.' Part of it was the market paid more than we were willing to."
Moving forward, the Mets again will have to make a determination of what price they are willing to pay in terms of money and prospects if they are to make an addition to the rotation before the July 31 trade deadline.
Two things appear certain:
1. The Mets have not recently expressed an appetite to unload their farm system for rental players, such as would be required with the Seattle Mariners for Cliff Lee. That reluctance undoubtedly has been reinforced this year by the fan response to rookies such as Ike Davis and Ruben Tejada, who have positively affected ticket sales while producing on the field.
2. It's too early to tell if the Mets actually will need to pull the trigger. Like with the determination the Mets made during the offseason that the free-agent class was no better than Maine and Perez, a similar calculation will have to be made in roughly six weeks. Essentially, can Baltimore's Kevin Millwood or Cleveland's Jake Westbrook, both of whom could be available, really provide better production than Dickey -- and at what cost? Right now, the answer would be no. But the trading deadline is still a long ways away, and Dickey will have several more starts under his belt.
"History shows us there are going to be arms available, and we'll have to make a determination at that time what's our biggest need, or where we are in the standings, and what we think is the best piece that helps us -- if anything," Ricco said.
Specifically on the organization's seeming resistance to pursuing rental players, Ricco countered with an example from the trading deadline three years ago.
"We did it with (Luis) Castillo (for minor leaguer catcher Drew Butera and outfielder Dustin Martin) in '07," Ricco said. "Really, Omar has made trade-deadline deals when it's made sense, and if the right piece is there that you think can get you over the top. I don't think he'll shy away from that. It's just a matter if there's a fit. I'm sure we'll be on the phone, active.
"There were years -- we had Manny (Ramirez) on our radar screen. Some of them didn't happen. It didn't mean we weren't trying to make that happen."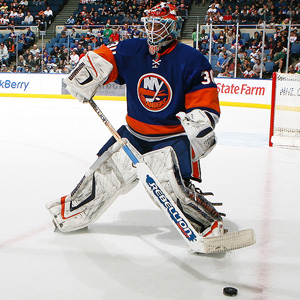 Mike Stobe/NHLI/Getty Images
The Wilpons don't appear to want to own the Islanders. They wouldn't mind them as tenants in an arena they developed, though.
ON THE ISLES
There continue to be reports of the Mets' ownership group wooing the Islanders to relocate to the area near Citi Field. That much the Mets have acknowledged for a while to be true.
But it does not appear Fred and Jeff Wilpon have any particular ambition to actually own the Islanders.
Instead, it would make more sense for the Wilpons to have the hockey team nearby to create synergy with the Mets by making the area around Citi Field a year-round destination for fans. But there is a bigger motive: profits. It would appear more lucrative for the Wilpons to develop and manage the hockey arena in which the Islanders play than to actually own the National Hockey League team.
That said, it would not seem completely out of the question for a group including the Wilpons to one day purchase the Islanders if the price were right. Right now, that price probably is too high to be attractive, though.
CENTER ATTENTION
Carlos Beltran upped the number of innings he logged in center field in an intrasquad game to five on Monday, even if he had no chances in the informal game.
Does that mean he will log seven innings, then nine innings, then imminently begin a minor league rehab assignment within days?
No, team insiders suggest.
Instead, a Mets source said, the organizational thinking is for Beltran to play at least a handful of full games in intrasquad games with leftover players at the team's Port St. Lucie, Fla., complex before officially starting a rehab assignment. That way, the clock won't be started on Beltran's return -- and if there is a small setback as he begins to log full games, it's not a big deal.
Once a position player begins an official rehab assignment with a minor league team, he needs to be activated within 20 days. (That clock is 30 days for pitchers.)
Adam Rubin's 'In-depth' look at the Mets will appear selected Tuesdays during the season