NEW YORK -- One week later after Johan Santana's no-hitter, the Mets found themselves on the opposite side of a no-no -- until Omar Quintanilla put an end to it.
With two outs in the sixth inning, the shortstop, who is playing with a fractured left index finger, doubled to left field to break up Hiroki Kuroda's bid at history.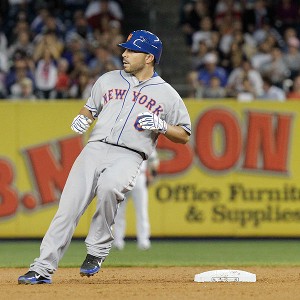 Tim Farrell/The Star-Ledger/US Presswire
Omar Quintanilla rounds second base after notching the Mets' first hit.
It was one of just two hits the Mets mustered in a 9-1 loss to the Yankees on Friday night in the Bronx.
"Not really," Quintanilla replied when asked if he was thinking about the possibility of his team getting no-hit when he stepped to the plate.
"I went out there with the same frame of mind, and that getting a good pitch to hit. I wasn't trying too much to get a hit. I was trying to get a good pitch, I got it on a full count and I put some good wood on it."
A week earlier, Quintanilla watched Santana throw the first no-hitter in Mets franchise history. Seven days later, Quintanilla halted any thoughts of the Mets getting no-hit for the seventh time ever.
"It was strange. But nobody was nervous in the dugout," he said. "We knew someone was gonna grind one out, and it was a relief after that."
Kuroda ended up giving up just the double over seven innings. The Japanese right-hander struck out seven.
"He was always good. But that's by far the best I've ever seen him," Jason Bay said.
Josh Thole said Kuroda's sinker "wreaked havoc" all night long.
Manager Terry Collins agreed with Bay.
"I've seen Mr. Kuroda for a while. I saw him in Japan, I've seen him here and this is the best I've ever seen him pitch," Collins said. "This is the best stuff, best command of his stuff, I've ever seen."