After David Wright errantly short-hopped first baseman Vinny Rottino with a two-out throw in the seventh inning, Terry Collins knew the Mets were playing with fire.
"When we didn't make the play, I said, 'This isn't good. Not here. This isn't good,'" Collins said.
Sure enough, Russell Martin followed with a two-run homer against Jon Niese to pull the Yankees within a run. And the Mets ultimately paid for a pair of errors with a 5-4 loss to the Yankees on Sunday in the Bronx.
As for the error itself, Wright said he had trouble gripping the baseball for the throw.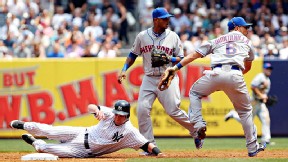 Anthony Gruppuso/US Presswire
Omar Quintanilla converted this third-inning double play on Derek Jeter. But the shortstop couldn't handle Jeter's eighth-inning grounder. And it cost the Mets.
"It was rolling around in my glove a little bit," Wright said. "I tried to do the best I could with it."
Said Niese: "Usually he makes the play. It's one of those things where everybody is human. Everybody makes errors. That's just the way it goes. When that happens, I just have to bear down and get another groundball."
The sloppiness did not end there. To lead off the following inning, Bobby Parnell coaxed Derek Jeter into a slow grounder to shortstop Omar Quintanilla. The ball went under Quintanilla's glove, and Jeter hustled to second base. He ultimately scored the tying run.
"Bobby busted his tail off to get that groundball," Quintanilla said. "It was a tough groundball. I was expecting a taller hop, a higher hop. I didn't get it. The least I could have done is keep it in the infield. Jeter shouldn't be on second base on that ball. It's just my error."
Officially, the play was scored a hit and an error, but Collins noted: "Well, of course it's playable."
Either way, Jeter was on second base. And Collins dryly afterward said he did not care how it officially looks in a box score. It was a play that should have been made.
"I don't worry about that stuff, really. It is what it is," Collins said. "... It's Derek Jeter. Shoot, give him a hit. It gets him closer to 4,000.
"It's a play you've got to make. And Omar can make them. He's a very, very good shortstop. The ball just stayed under his glove. That was it."
Quintanilla is playing with a fracture at the tip of his left index finger, on his glove hand, which he suffered last Wednesday in Washington. He said that was a nonissue with respect to the play.
"It's real little pain," Quintanilla said. "It's nothing that's keeping me from making that play or hitting or anything."
Said Collins, summarizing the plays: "We've talked about this time and again. We aren't the kind of club that can make a lot of mistakes. And when you give teams as good as the New York Yankees, or anybody else in the big leagues, multiple [extra]-out innings, they're going to get you. We saw it several times in the last two weeks where we haven't made plays, and the next thing you know it becomes a big inning."