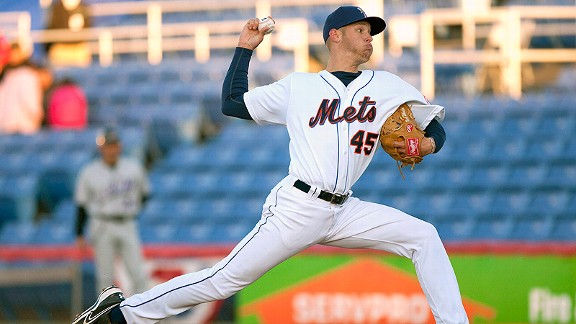 Mike Janes/Four Seam Images/AP Images
If the Mets are serious about a run, maybe it's time to bring up Zack Wheeler.Each week, ESPN senior baseball editor Matt Meyers and Mets blogger Mark Simon convene to discuss the upcoming week for the Mets.
Did last week mark the beginning of the end for the Mets' contention hopes?
Meyers: I don't think it marked the end, but the Mets' weaknesses were certainly exposed. Other than David Wright, their roster is comprised almost exclusively of hitters with huge platoon splits, and they are having trouble scoring, particularly against lefties. The defense is poor, and is making the bullpen look worse than it actually is. I wouldn't give up hope, but fans need to be realistic -- this team has holes.
Simon: I hate to say it, but it feels like that's the path they're headed down. There are a lot of could've, would've and should've moments in the last week that good teams take advantage of, such as finding a way to win in Washington.
But this team has been able to reverse course several times, so maybe they take the unpredictable route and steal a couple from the Rays.
Is there a move the Mets could make to stem the bleeding?
Meyers: If the Mets really believe they can contend, calling up Zack Wheeler is the one move that could really stir things up. There is a decent chance that he will be as good as he will ever be between now and 2016 or so -- unlike hitters, many pitchers peak in their early 20s -- and the club should try to maximize that window. His secondary stuff might not really be ready, but his fastball is good enough to make him effective while his stuff develops. If nothing else, he's proven he should be in Triple-A.
Simon: As Terry Collins has previously noted, the Mets are hamstrung by the limitations of their 40-man roster.
The Mets could absolutely positively use a right-handed bat, and a left-handed arm, but the options are the likes of Zach Lutz and Robert Carson, who didn't instill much confidence in their brief stints here.
I would be inclined to find a way on to the roster for Edgin, though I'll fully admit to Sandy Alderson and J.P. Ricciardi being more up to speed on his readiness than I am.
Make a prediction for the week.
Meyers: I predict the R.A. Dickey-David Price matchup on Wednesday will be a slugfest. Because you just can't predict baseball!
Simon: Funny, our predictions could not be more opposite.
I think Wednesday's game will live up to expectations and be a 1-0 affair.
Price hasn't been as good as Dickey, but he's allowed just three runs over 26 1/3 innings in his past four starts. He could be the hardest throwing starting pitcher the Mets see the rest of the season, with a fastball that averaged 97 mph in his last appearance against the Yankees.