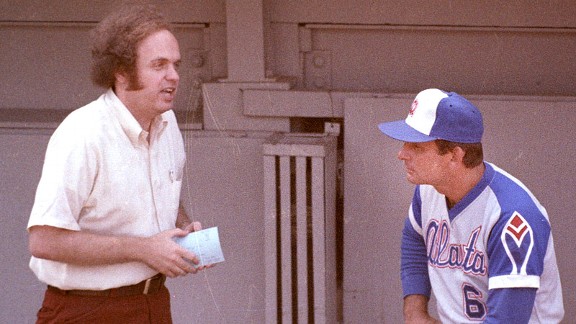 Courtesy of Mike Kostel
Warner Fusselle, voice of the Brooklyn Cyclones -- pictured in 1978 with former Braves manager Bobby Cox -- died Sunday at 68.With the news that Warner Fusselle, voice of the Brooklyn Cyclones and previously "This Week In Baseball" and Seton Hall basketball, died Sunday at 68, ESPN producer William Weinbaum shared the following thoughts with ESPNNewYork.com.
His voice, cadence and quirks exalted baseball on a national stage and smaller ones for decades. Although not a household name, Warner Fusselle was a pervasive presence in sports-loving homes, and he was unsurpassed in his passion and precision.
My introduction to Fuse came in 1984 when I was among the newly minted staffers of Major League Baseball Productions. He instilled an eye and ear to detail. An imposing presence with a booming delivery, Fuse didn't countenance interruptions as he presented a primer on viewing and dissecting ballgames to record and preserve minutiae so shows like "This Week In Baseball" could craft compelling, nuanced episodes.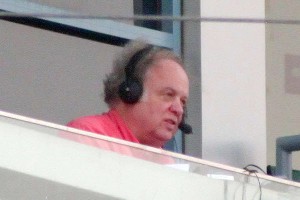 Courtesy of Mike Kostel
"There is no one who knew more -- or cared more -- about baseball in Brooklyn than Warner (Fusselle)," said Cyclones GM Steve Cohen.Beyond his encyclopedic knowledge of facts and figures -- he painstakingly maintained "The Book," a massive compendium each season of scrapbook pages containing box scores and standings he cut and pasted for every major league game to which he added his notations in red -- Fuse reveled in storytelling and proper parlance and writing. He relished wordplay, but words were way, way more than a game to him.
Fuse was unyielding in commitment to colorful, but error-free, communication. Long before anyone could retrieve articles from the Internet or converse via email (neither of which he ever embraced), Fuse clipped and conveyed column after column of enlightening and enriching material about his areas of boundless love: sports, music and the language. When English maven William Safire wrote in his New York Times "On Language" column that saying or writing "on the year" or "on the season" was improper, Fuse quit the practice cold turkey and influenced me to do the same.
There were only absolutes in the Fuse view of the world, so people who knew him invariably knew where he stood and where they stood with him. And regardless of his opinion of you, he usually gave you an obscure and irrevocable nickname -- mine was Young Indiana, for when I was photographed after a softball game wearing a cap in a way that must have evoked Harrison Ford in "Indiana Jones and the Temple of Doom."
His thirst for momentous and obscure tales on and off the diamond, or the hardwood, never waned. He called games of the ABA's Virginia Squires and 40 years later eagerly checked out little-known, but gifted, hoops players on Harlem's concrete courts, and he held a number-one market radio gig in between as the voice of Seton Hall Pirates basketball. The show he hosted on ESPN, "Major League Baseball Magazine," was a wonderful forum for his many original and offbeat ideas, melding music and baseball, people and places, stats and stories.
I'll never forget his gleam and guffaw about two opening day "starters" one year who threw lefty and batted righty. And there was video of the two of them together, not on a ballfield, but at the White House. George Herbert Walker Bush threw out a first ball and Rickey Henderson started for Oakland after the world champion Athletics had visited the president in Washington.
Nothing about Fuse was easy; he wasn't easy on his friends and, most of all, he wasn't easy on himself. But he sure was easy on the ear, in the tradition of Mel Allen, Red Barber and Ernie Harwell, all fellow broadcasters from the South, all raconteurs, all chroniclers of the game and the personalities, without exuding self-importance.
The late Speaker of the House Tip O'Neill coined the phrase "all politics is local." I'd argue that all good sports broadcasts are much the same, and that this was how the seasoned practitioner Warner Fusselle approached his opportunities on the airwaves, regaling listeners as an enthusiastic uncle or grandfather would in describing the exploits of someone his audience knew.
It's not easy to come to grips with Fuse being gone.
Just a few days ago, a letter arrived with four Brooklyn Cyclones schedules enclosed and a note about how he was about to begin broadcasting another of the team's seasons on the radio, after having enjoyed doing TV broadcasts for St. John's home baseball games.
The letter began: "Young Indiana."