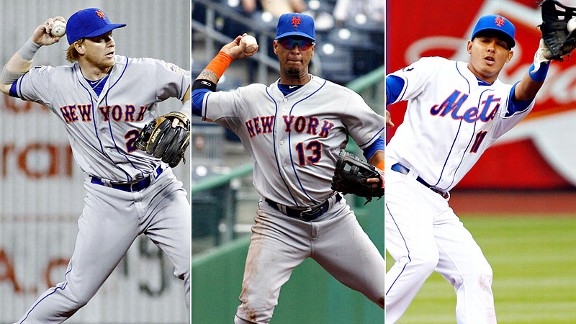 Getty Images/US Presswire
Justin Turner, Ronny Cedeño and Ruben Tejada all are at the Mets' complex in Port St. Lucie, Fla.
ST. PETERSBURG, Fla. -- Ruben Tejada, who was pulled from a rehab game with Triple-A Buffalo eight days ago, still has not attempted to run since the flareup with his right quadriceps.
Tejada should attempt to do some running drills Wednesday in Port St. Lucie, but that activity would be on the light side.
Tejada had been examined Thursday by team doctors at the Hospital for Special Surgery in Manhattan. Terry Collins said the quad is no worse than when the injury originally occurred as Tejada tried to leg out an infield single on May 6.
"It just hasn't gotten better," Collins said. "Or maybe it's worse than we thought in the beginning."
Also on the injury front:
• Ronny Cedeño (calf) ran in the infield Tuesday.
• Justin Turner (ankle/foot) had at-bats in a modified game but did not run.
• Ramom Ramirez (hamstring) long tossed but has not yet stepped on a mound or run.