With Andres Torres, Scott Hairston and even Kirk Nieuwenhuis nursing injuries as spring training neared completion, Matt den Dekker was fourth in the line of succession to serve as the Mets' Opening Day center fielder.
In the end, though, Torres made it back for the season opener -- although he reinjured his left calf seven innings into his Mets debut and went to the DL -- and Nieuwenhuis was promoted from Triple-A Buffalo to join a healed Hairston on the major league roster.
"I knew it was a long shot," den Dekker said, "so I knew most likely I was coming down here and getting a chance to work on my game a little more and try to get better."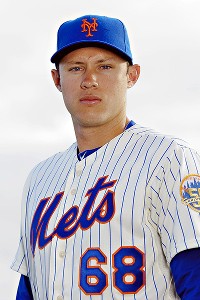 Steve Mitchell/US Presswire
Matt den Dekker
Den Dekker, 24, nonetheless is knocking on the door of a major league career. After a weekend in which he had the second five-hit game of his pro career (the other came Aug. 24, 2010 with Savannah), den Dekker was named Eastern League Player of the Week and was promoted from Double-A Binghamton to Buffalo.
A fifth-round pick in 2010 from the University of Florida, den Dekker manned center field and went 1-fo-4 with a walk and two strikeouts while batting leadoff Tuesday for the Bisons in his Triple-A debut. He swapped roster spots with Dustin Martin, who was demoted to Binghamton.
Den Dekker was hitting an Eastern League-leading .340 with eight homers, 29 RBIs and 10 steals in 17 attempts with the B-Mets before the promotion. Den Dekker also was leading the league in hits (81), doubles (21), slugging percentage (.563), extra-base hits (33), runs (47) and total bases (134). He had multi-hit games in his final six starts with the B-Mets.
Known for his highlight-reel catches in center field, den Dekker struggled at the plate during the second half of the 2011 season, after a promotion to Binghamton. He struck out 91 times in 272 at-bats.
After observing den Dekker in spring training, Mets hitting coach Dave Hudgens gave a detailed scouting report about how the ex-Gator needed to improve in order to succeed at the major league level.
"One of the reasons he probably struck out too much is he missed some pitches he should have hit early in the count," Hudgens said. "He dropped his barrel a little bit, gets a little bit of length [with his swing]. We're doing some things to kind of close him up a little bit and try to get him on top of the baseball. … And then it's a matter of recognizing some pitches. He swings at some breaking balls in the dirt. We've got to get him to recognize spin down."
Den Dekker had 64 strikeouts -- fourth-most in the league -- in 238 at-bats with the B-Mets this season, but he reported making strides in the areas Hudgens outlined. A scout agreed.
"He a good defender," the scout said. "He throws good enough. He's got some power -- not great power, but he's got some power. He's making adjustments. I've been there [to watch Binghamton] three times. Every time he's gotten better with the bat. He's not flailing. He's not trying to pull the ball. He's making adjustments. It looks natural. He will cut down on his strikeouts with this new approach. He's more patient. He's going to be OK. I was prepared to not like this kid. He's really won me over. It's going to be a very spirited competition for center field between him and Nieuwenhuis, who are both better than Torres."
Said den Dekker: "I think I've been a little more aggressive. I think last year I got passive at the plate at times. Just being aggressive early. When I get a good pitch to hit, I'm not missing the pitch that I like to hit. That's been the biggest difference for me, I think.
"I still strike out a little bit, but I think it's getting better. When I get more at-bats and more games, I think it's going to be a lot better. I think I've been a little better with recognizing the strike zone and stuff like that."
One thing is for certain: With Nieuwenhuis excelling at the major league level, den Dekker reaching that level certainly seems attainable, too. Of course, with an overcrowded Mets outfield, that may wait until rosters expand in September. Even then it would require clearing a 40-man roster spot.
"Seeing him playing up there and succeeding, and doing great, kind of gives me the feeling I'm pretty close," den Dekker said, "and I just have to keep up what I'm doing, keep working hard, and things will work out."
Read previous farm reports about den Dekker here and here.
LOOK FOR PART II OF THE FARM REPORT AT NOON, WITH ORGANIZATIONAL STANDINGS AND PLAYER NOTES.
Adam Rubin's farm report appears Wednesdays during the regular season