ST. PETERSBURG, Fla. -- Terry Collins is an All-Star.
National League manager Tony La Russa has invited Collins, as well as Milwaukee Brewers manager Ron Roenicke to serve on his staff for the July 10 game in Kansas City.
Collins last participated in an All-Star Game in 1995, when he was managing the Houston Astros and Montreal's Felipe Alou selected him for the staff.
"I think it's great," Collins said. "I mean, it's an honor to be asked. And certainly it's a thrill to be associated with the game itself. I'm truly honored. I told Tony I was shocked."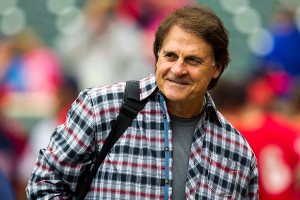 Jesse Johnson/US Presswire
Tony La Russa, who will manage the NL All-Stars despite his retirement as skipper after the World Series, selected Terry Collins to his staff.
Collins said La Russa actually invited him to participate during spring training. He will serve as first- or third-base coach during the first portion of the game.
Asked why he invited Collins, La Russa said: "I've known and respected him for years. But I think the job he's done last year, with nobody had more adversity than that, and he kept the club competing. And he's doing it again this year."
Added La Russa: "I just think you need to recognize when somebody is handling a ballclub and day in and day out there's no difference in how they compete. If the starters are hurt, they still keep competing, and he keeps getting contributions. I think it's a well-deserved honor."
La Russa actually called Collins after Johan Santana's no-hitter to tell Collins he did the correct thing letting Santana go the distance.
"I could just tell by looking at his face," La Russa said. "He was really grinding on it. I know the pitching coach was. They wanted to do the right thing. What's the right thing? It was a really tough call. They were worried about his health, first and foremost. I just knew what he was going through. When he got the last out, when you looked at [Collins'] face, he was the only guy in the ballpark that was not cheering and celebrating. I knew it was because he had doubts about pushing it.
"But I just called, for whatever my opinion was worth. I think we were raised the same way for protecting pitchers and caring for them. ... I read his comments and saw he was still beating himself up. He was going to wait to see how he came out of that. I just wanted to let him know, 'Before you ever find out if Johan has some extra stiffness or soreness, in my opinion you did the right thing.'"