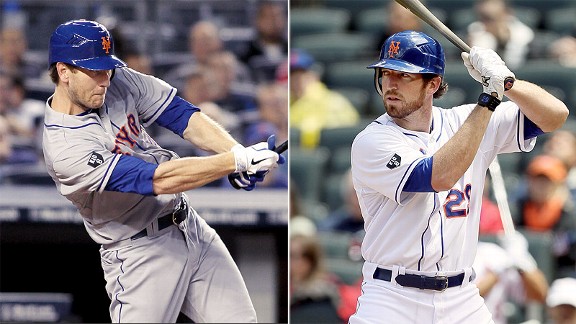 Getty Images
Jason Bay may have to share left-field duty this weekend, since Ike Davis' uptick seemingly means he is less likely to vacate first base and create an opening for an outfielder to shift there.ST. PETERSBURG, Fla. -- Jason Bay, Andres Torres and Scott Hairston may have to share left field this weekend.
With the Mets facing three right-handed pitchers upon returning to Citi Field -- Cincinnati's Bronson Arroyo, Homer Bailey and Johnny Cueto -- and with the DH no longer in effect, Terry Collins said it is clear lefty-hitters Kirk Nieuwenhuis and Lucas Duda are not being held out of the lineup this weekend. That means there's one spot for those other three outfielders, since Ike Davis' production uptick seemingly takes him out of the danger zone of losing his first-base gig.
Bay is 0-for-16 since returning from the DL. And Collins expressed support, suggesting perhaps he did not see enough pitching before being activated from the DL. Bay had only 12 plate appearances over three games. And Bay chose to do it all at Class A St. Lucie, rather than see more advanced pitching.
The switch-hitting Torres, meanwhile, is hitting .163 against right-handed pitching this season.