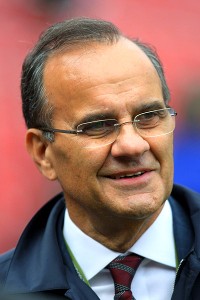 Dennis Wierzbicki/US Presswire
R.A. Dickey's no-hit aspirations are in Joe Torre's hands.ST. PETERSBURG, Fla. --Joe Torre, who is charged with reviewing official scorer decisions unilaterally or referring it to a committee, said he will seek other opinions -- including from Tony La Russa -- before ruling whether R.A. Dickey has a one-hitter or no-hitter.
"Even though I make these decisions on scoring on a daily basis, obviously what's at stake here, I just want to make sure we give the decision every opportunity to get more than my opinion," Torre said on a conference call naming him as manager of Team USA in the 2013 World Baseball Classic. "I have an opinion from what I've seen."
Torre said he would like to see more replay angles. He added that reaching a decision before the weekend is "reasonable."
"My guess is we should be able to get a varied number of people to look at this and come up with a decision," Torre said.