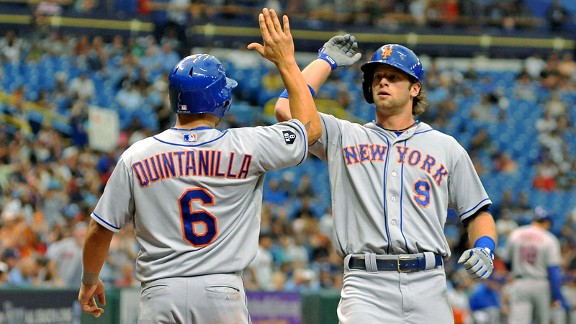 Al Messerschmidt/Getty Images
Kirk Nieuwenhuis celebrates with Omar Quintanilla after the second of the rookie's two homers Thursday afternoon staked the Mets to a 6-4 lead.ST. PETERSBURG, Fla. -- The New York Mets answered getting swept in the Subway Series in resounding fashion.
The Amazin's scored 29 runs in a three-game sweep of the Tampa Bay Rays, who had led the American League with a 3.40 ERA entering the series.
The Mets -- who scored 11, nine and nine runs -- last posted at least nine runs in three straight games in 2006. They last did it consecutively in the same series back in 1990, when they scored 43 runs in the final three games of a four-game set against the Chicago Cubs. Dave Magadan had a six-RBI game at Wrigley Field back then.
"I thought it was a tremendous job by our guys," Terry Collins said. "You come in and face the best pitching in the American League and put up runs like we did and have good at-bats and get their whole staff deep into pitch counts where in the fifth or sixth inning they were at 90 pitches, I was really pleased with the offense."
The Mets (35-29) now have navigated through five of their eight straight series against teams with winning records. They are 8-8 during that stretch against the Phillies, Cardinals, Nationals, Yankees and Rays. The three series that remain -- against the NL Central-leading Reds, Orioles and a Yankees rematch -- all will be played at Citi Field.
The Mets went 4-5 during what was technically a three-city trip to Washington, the Bronx and St. Petersburg.
"We turned a tough road trip into a decent road trip," Collins said. "We talk about it a lot: You've got to be able to get by yesterday and forget about what the last series was and go play, and continue to grind it out, continue to try to put good at-bats on, continue to try to pitch, keep your team in the game."
The players' thoughts?
"It's good for everybody to get three wins in a row, especially after losing to the Yankees," Johan Santana said. "It's always good. We're just building up our confidence, and we played pretty good."
Said Jon Rauch: "After the Yankees series, it's huge for us to come out here and play the game well. We've got a tough series coming up, but it's nice to get those three wins."
"It's the whole reason baseball is an interesting game," Jason Bay said. "I think someone said they were leading the AL or the majors in ERA -- or something to that extent, doing pretty well. We're not really built to score nine, 10, 11 -- whatever it is -- a night. To do it, especially coming off that sweep with the Yankees, and the last game kind of getting the wind sucked out of our sails, it could have been very easy to be down. No question."