Dillon Gee surrendered a pair of homers -- one of the inside-the-park variety -- and the Mets lost Jason Bay to a suspected concussion in a 7-3 defeat against the Cincinnati Reds on Friday night at Citi Field.
Saturday's news reports:
• Bay suffered the head injury making contact with the wall on a second-inning diving attempt during what became an inside-the-park homer for Jay Bruce. Terry Collins said Bay was woozy and was taken home by security personnel. The left fielder almost assuredly will land on the seven-day concussion disabled list. Justin Turner's rehab assignment with Triple-A Buffalo will be cut short after two games and eight at-bats, and the infielder should be activated to take Bay's roster spot.
Bay had been 2-for-25 since returning from a DL trip prompted by a fractured rib, which also was suffered attempting a diving outfield catch. This is not Bay's first concussion, which adds to the concern. He suffered a whiplash-induced concussion at Dodger Stadium on July 23, 2010. Bay then played two more games and did not return for the remainder of that season.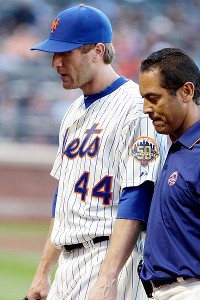 Frank Franklin II/Associated Press
Trainer Ray Ramirez escorts Jason Bay off the field in the second inning Friday night.
With Bay's loss, Collins said there still is enough outfield depth to get by with Lucas Duda, Kirk Nieuwenhuis, Scott Hairston and Andres Torres as well as Vinny Rottino and Jordany Valdespin -- hence Turner's early return and not the promotion of an outfielder.
The Mets face another four straight right-handers: Homer Bailey on Saturday (versus Jon Niese), Johnny Cueto on Sunday, then Baltimore's Jake Arrieta and Tommy Hunter the first two games of an interleague series at Citi Field. The next southpaw starter due to face the Mets is the Orioles' Brian Matusz on Wednesday.
As a result, it's logical for at least the next four games for Nieuwenhuis to continue to start in center and Duda in right field. As for left field, Collins was noncommittal postgame. Even though Torres is a switch-hitter, he -- like Hairston -- is much more effective against left-handed pitching. Although Valdespin could get a start, Hairston may see the most action. Collins chose to insert Hairston once Bay came out of Friday's game. And Hairston started consecutive games last week against right-handed pitching, including when Bay was scratched in D.C. with suspected ill effects of an antibiotic.
Turner, playing second base, and Ronny Cedeño at shortstop each went 1-for-4 in a rehab game Friday night with Triple-A Buffalo. It was only Turner's second rehab game. The plan originally was to have him stay with the Bisons through the weekend and see more pitching.
• Columnist Kevin Kernan in the Post suggests it's time to terminate Bay's career with the Mets, for the good of the team and the player. Writes Kernan:
No Met has struggled like Bay, but once again he put his body in jeopardy. The wall always wins. Just ask Mike Baxter, who made a catch for the ages on June 1 ago to save Johan Santana's no-hitter. That is the only way Bay knows how to play, but the sad truth is Bay's Mets career at this point is a total lost cause and he figures to be out a substantial amount of time again. He had just returned from a fractured rib which was caused by a dive for another fly ball. In late July of 2010, he suffered a terrible concussion slamming into the left-field wall at Dodger Stadium that finished his season. Bay has suffered three knockout punches and each time he was injured, the air was sucked out of the Mets. Bay's four-year, $66 million contract that runs through next season may be the worst deal in Mets history. For his own good, and their own, the Mets have to find a new home for Bay, they have to eat what's left of the deal and send him somewhere he can get a fresh start.
Columnist Tim Smith in the Daily News also writes about Bay's career and the expectations that came with a four-year, $66 million deal:
Bay's injury history, lack of production and salary ($16 million this season) have worn on the patience of Mets fans, who consider him the biggest free agent bust since Ollie Perez and Luis Castillo left town. Bay is bringing up those old bad vibes, even in a feel-good season for the Mets. If his latest injury knocks Bay out for an extended period, he will go to the head of the class with Mo Vaughn and Bobby Bonilla as far as Mets free-agent busts go. Here is what the Mets have gotten on their $66 million investment so far: 22 home runs, 110 RBI, two concussions, a fractured rib and the reality of non-existent slugging prowess.
• Read game recaps/Bay injury coverage in the Star-Ledger, Journal, Newsday, Record, Daily News, Times and Post.
• The Mets' appeal in an attempt to credit R.A. Dickey with a no-hitter Wednesday at Tampa Bay has been denied by Joe Torre and Major League Baseball. Dickey described himself as "fairly relieved" at the resolution, since there would always have been an asterisk by the feat had B.J. Upton's first-inning infield single been changed to an error on third baseman David Wright, who was unable to cleanly barehand the ball. Jerry Koosman, whose franchise-record scoreless innings streak was topped with the knuckleballer's performance against the Rays, happened to be at Citi Field on Friday as part of a Mets alumni event. Dickey's streak ended at 32 2/3 innings with an unearned run in the ninth Wednesday. Koosman's former record, set in 1973, had been 31 2/3 innings. Read more in Newsday, the Post, Star-Ledger, Daily News and Record.
Dickey, by the way, will appear at the Yogi Berra Museum at Montclair State University on Thursday from 6 to 7:30 p.m. to sell signed copies of his memoir.
• David Wright was grazed by his stomach with an eighth-inning pitch from Sean Marshall, which the third baseman believed was payback for Gee hitting Joey Votto in the back with a pitch five innings earlier. Still, Wright had no problem with the grazing. You may recall Wright being pulled against his will from a lopsided May 15 game against Milwaukee because Collins feared D.J. Carrasco's plunking of Ryan Braun would elicit retribution. Read more in the Post and Daily News.
• Jenrry Mejia tossed a scoreless inning as his two-week preparation in Buffalo for major league bullpen duty began, and Matt den Dekker delivered his first Triple-A homer, but the Bisons lost to Pawtucket, 8-3. Mejia coaxed three groundouts and a surrendered a single in a 19-pitch frame. According to the Buffalo News' Mike Harrington, the final pitch -- at 95 mph -- shattered a bat. Read Friday's full minor league recap here. Read more on the Bisons' recent slide in the Buffalo News.
• Anthony M. Destefano in Newsday has details of the revitalization plans for the land adjacent to Citi Field, which currently mostly houses auto-repair businesses. Writes Destefano:
The plans announced Thursday call for the environmental remediation of 23 acres of contaminated land east of Citi Field. The project was approved by the city in 2008, but faced unsuccessful legal challenges from property owners. [Mayor Mike] Bloomberg said about 95 percent of the land in the eastern zone has been acquired by the city through purchases. The latest proposal, which requires zoning changes, environmental review and approval by the City Council, adds some new elements, notably a Willets West project for an area immediately west of Citi Field. Willets West will convert current stadium parking into a 1-million-square-foot retail and entertainment center, with more than 200 retail stores of all sizes, movie theaters, restaurants, entertainment venues, a parking structure and surface parking for 2,500 cars, the city said.
The first redevelopment phase, an area east of Citi Field, calls for construction of retail, hotel and commercial space. Some 2,500 housing units are also provided for later, with 875 units labeled "affordable."
• The Brooklyn Cyclones, who open their New York-Penn League season Monday against the Staten Island Yankees at Coney Island, officially announced their roster. It includes 2011 first-round pick Brandon Nimmo, a high school outfielder from Wyoming, who had been participating in extended spring training. It also includes Purdue catcher Kevin Plawecki, the 35th overall pick in the draft, who signed for a reported $1.47 million. The local angles include left-hander John Mincone, who is a product of Half Hollow Hills East and Suffolk Community College West on Long Island, as well as 12th-round pick Rob Whalen, whose entire family hails from Queens. Whalen as an 8-year-old won the "Tom Seaver Most Outstanding Pitcher Award" at a Mets-sponsored camp at Long Neck, N.Y.
The full Cyclones roster:
Pitchers: Matt Bowman, Luis Cessa, Darwin Frias, Jeremy Gould, Julian Hilario, Matt Koch, Rainy Lara, Luis Mateo, Mincone, Hansel Robles, Richard Ruff, Paul Sewald, Juan Urbina, Tyler Vandenheinden, Brandon Welch, Whalen, Beck Wheeler, David Wynn, Ernesto Yanez, Gabriel Ynoa.
Catchers: Xorge Carrillo, Jeff Glenn, Plawecki, Nelfi Zapata.
Infielders: Cole Frenzel, Alex Sanchez, Richie Rodriguez, Jorge Rivero, Jeff Reynolds, Dimas Ponce, Juan Gamboa, Phillip Evans, Yucarybert De La Cruz.
Outfielders: Jonathan Clark, Julio Concepcion, Nimmo, Eudy Pina, Stefan Sabol.
Read more in the Cyclones in the Post.
• 2012 first-round pick Gavin Cecchini and Plawecki took batting practice at Citi Field before Friday's game and met with the New York media. Cecchini, a high school shortstop from Louisiana and the 12th overall pick, is ticketed for Class A Kingsport. He chose to wear No. 2 out of respect for favorite player Derek Jeter. Read more in Newsday.
• Fourth-round pick Branden Kaupe, a speedy switch-hitting infielder from Hawaii, has agreed to sign for $225,000 -- below the commissioner's recommendation of $323,900 for that slot, according to Baseball America's Jim Callis.
• Cody Derespina in Newsday talks to players who transitioned from infield to outfield.
TRIVIA: Who has the Mets' last inside-the-park homer?
Friday's answer: Benny Agbayani went on the radio with Howard Stern before the 2000 Subway Series and lightheartedly predicted the Mets would win the World Series.