Terry Collins originally wanted Justin Turner to spend a couple of more games on a rehab assignment with Triple-A Buffalo. But when Jason Bay suffered a concussion Friday night, Turner's stint with the Bisons was curtailed to two games and eight at-bats.
Turner was activated from the disabled list for Saturday's game. He replaced Bay, who landed on the seven-day concussion DL.
"This is the right move at the right time," Collins said, noting Turner also had three games and 12 at-bats in extended spring training in Port St. Lucie, Fla., before joining the Bisons.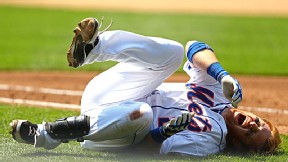 Al Bello/Getty Images
Justin Turner was in agony after jamming his right ankle on first base on May 28.
Said Turner: "I feel good at the plate. I feel real comfortable. You know, I only missed 10 days of swinging a bat, so it wasn't a significant amount of time. I felt like the first day I picked up a bat I wasn't too far off."
Turner -- who landed on the DL on May 29 with a right ankle sprain and ligament damage in the foot -- played one full game at shortstop and one game at second base with the Bisons. He will wear a sleeve on the ankle with light tape over it, after experimenting with other wraps to determine what is most comfortable.
Turner right now primarily is a righty bat for the bench, although Collins did not rule out a start at shortstop against a left-handed pitcher later. The infielder's ankle still is a little cranky when he awakes each morning.
"In the morning it's a little tender when I get up, but as soon as I start walking around, it feels fine," Turner said. "... It feels great. I played shortstop [Thursday] for nine innings. I played short and second down in extended for the three days. So it feels really good."
As for the length of his absence, which was only three days beyond the minimum DL stay, Turner said: "When I first did it, I thought I broke it. This is a lot quicker than that. I've done my ankle several times before, and been back on it in less than a week before too. This was a situation where we wanted to be a little more careful with it and take time and make sure I was closer to 100 percent before I was back, whereas before when I was in college and in the minor leagues it was just about getting back and playing through the pain."
Turner knew even during Friday's Buffalo game, in which he manned second base, that he might imminently get activated from the DL. Bisons manager Wally Backman, coaching third base, informed Turner about Bay's injury when Turner got on base.
"It was like in the third or fourth inning," Turner said. "He was like, 'Don't be surprised if you end up going up tomorrow.' I was aware of it before the game even got over last night."
As for the highly important intro music he uses at Citi Field -- yes, Turner will continue to use "Call Me Maybe."