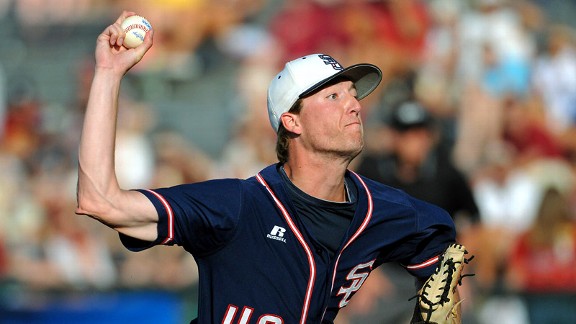 Melina Vastola/US Presswire
Samford University right-hander Tyler Vanderheiden (19th round) has signed and will begin his pro career in Brooklyn.
In addition to Louisiana high school shortstop Gavin Cecchini (12th overall pick) and Purdue catcher Kevin Plawecki (35th overall), the Mets have confirmed the signings of 13 other selections from last week's draft.
The signings:
Rd. 3 (107), Matt Koch, RHP, Louisville
Rd. 4 (140), Branden Kaupe, SS, Baldwin (Hawaii) HS
Rd. 5 (170), Brandon Welch, RHP, Palm Beach State
Rd. 7 (230), Corey Oswalt, RHP, Madison (Calif.) HS
Rd. 8 (260), Tomas Nido, C, Orangewood Christian (Calif.) HS
Rd. 9 (290), Richie Rodriguez, 2B, Eastern Kentucky
Rd. 10 (320), Paul Sewald, RHP, San Diego
Rd. 12 (380), Rob Whalen, RHP, Haines City (Fla.) HS
Rd. 13 (410), Matt Bowman, RHP, Princeton
Rd. 17 (530), Stefan Sabol, C, Orange Coast CC
Rd. 19 (590), Tyler Vanderheiden, RHP, Samford U
Rd. 20 (620), Tim Peterson, RHP, Kentucky
Rd. 38 (1160), Jeff Reynolds, 3B, Harvard
Plawecki, Koch, Welch, Rodriguez, Sewald, Whalen, Bowman, Sabol, Vanderheiden, Peterson and Reynolds will play for Brooklyn, which opens play Monday. Cecchini, Kaupe, Oswalt and Nido will play for Kingsport, which begins play the following day.