After consecutive batters reached base to open Saturday's game, Jon Niese had all but escaped by striking out Joey Votto, coaxing a flyout from Brandon Phillips, then getting ahead in the count, 0-2, to Jay Bruce.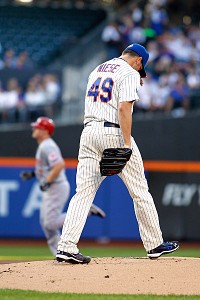 Mike Stobe/Getty Images
Jon Niese surrendered the decisive three-run homer to Jay Bruce in the first inning, on an 0-2 curveball.
Bruce, however, delivered a two-strike curveball beyond the right-field wall. The three-run homer proved all Cincinnati needed in a 4-1 win against the Mets at Citi Field on Saturday night.
"I don't regret throwing the pitch. I regret hanging it on the inside part of the plate," Niese said. "Hindsight is 20-20. I probably should have threw a fastball up and in and been done with it. Maybe he would have swung through it. Maybe not. That's baseball. It's one pitch. One mistake can cost you the game. And it did."
Said Terry Collins: "He made one bad pitch. Otherwise, he pitched a very good game."
• Neither side appeared to take issue with Niese plunking Bruce, then Lucas Duda getting hit square in the back by Homer Bailey. It's the second straight day the teams exchanged hit-by-pitches.
• The Mets' eight-game streak with a homer at Citi Field came to an end. The streak was the longest in the four-season-old stadium's history.
• Ike Davis sent a couple of balls to the track that were caught and finished 1-for-4. His average now sits at .192. Davis does have a seven-game hitting streak, during which he is hitting .500 (10-for-20).
• Duda has reached base safely in a career-high 19 straight games.
• The Mets were 2-for-12 with runners in scoring position. "We're sitting in our position today because we hit with two outs," Collins said. "And today we didn't. We had plenty of opportunities to get back in the game."