Eli Manning said it's been awhile since he picked up a baseball.
Still, the Giants two-time Super Bowl MVP quarterback was honored to throw out the first pitch prior to Sunday's Mets-Reds game at Citi Field.
"I know you can't one-hop it down there, so if I miss, I'll miss high," Manning said beforehand.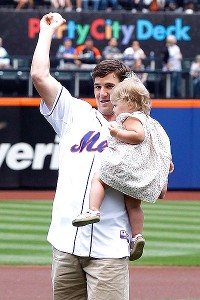 William Perlman/The Star-Ledger/US Presswire
With daughter Ava in his left arm, Eli Manning delivers the first pitch.
He planned to throw "a light toss" to the plate. "I'd like to get up on the mound, toe the rubber and whip it down there," he said, "but I'm not gonna do that."
With his 14-month-old daughter, Ava, in his left arm, Manning lobbed a high ball to David Wright from just in front of the mound. He received a nice ovation from the Father's Day crowd.
Manning said he got to warm up a bit in the Mets' bullpen. It is his first time at the Mets' home ballpark.
So Eli, Mets or Yankees?
"Both," Manning said. "I'm a New York fan."
Manning played baseball in high school, but never pitched. He played mostly second base and shortstop. He noted that he could turn the double play pretty well.
Manning spent time in the Mets' clubhouse before the game.
"I talked to a few of the guys," he said. "There's a different locker room mentality for football and baseball, since it's 162 games vs. 16."
Manning threw out the first pitch on behalf of Pampers in honor of the "Most Valuable Dads" on Father's Day.
He was wearing a Pampers polo shirt until the Mets presented him with a "No. 10" Mets jersey with his name on the back.