After two less-than-stellar outings in the aftermath of his no-hitter, Johan Santana got back on track Tuesday. The southpaw followed R.A. Dickey's one-hit shutout by tossing six scoreless innings. Santana combined with Bobby Parnell, Miguel Batista and Jon Rauch on the 5-0 victory against the Orioles -- the Mets' NL-leading eighth shutout. The Amazin's upped their scoreless streak to 22 innings. It's their third streak of at least that length this season. The season high was 28 consecutive scoreless innings, from May 25-28.
Tonight, the Mets send Dillon Gee (4-5, 4.43 ERA) to the mound aiming for the series sweep. Gee will oppose left-hander Brian Matusz (5-7, 4.94). While praising Dickey and Santana, Terry Collins added: "For us to have a big summer, we've got get Dillon and Jon Niese going."
A sweep would continue an interesting pattern for the Mets: getting swept by the Yankees, sweeping the Rays, then getting swept by the Reds.
Wednesday's news reports:
• Lucas Duda produced his team-leading 11th homer, a two-run shot in the sixth. Jordany Valdespin, manning left field a day after getting a start at second base, capped the scoring with a two-run single an inning later. Omar Quintanilla snapped an 0-for-16 drought with a seventh-inning single, but Ike Davis lost a nine-game hitting streak as his average sagged to .193. Justin Turner grounded out as a pinch hitter in his first plate appearance since returning from the DL. Turner may start at shortstop Wednesday, with Collins saying he expected to give Quintanilla the day off. Read game recaps in the Post, Daily News, Times, Newsday, Star-Ledger and Record.
• Columnist John Harper in the Daily News suggests Dickey and Santana's success may force the Mets to be buyers at the trading deadline. Not reckless buyers who turn around and trade Zack Wheeler, but buyers nonetheless. Writes Harper:
If Santana is going to be dominant again, then he and Dickey are a tandem that would make the Mets awfully tough to beat if they ever did get into the postseason. Especially since Collins almost certainly would use Dickey on short rest at that point. "If we ever got there," Collins said Tuesday night, "we'd probably take advantage of that." The Mets have plenty of flaws, as they've demonstrated in recent weeks, and yet the idea of making a run at the postseason doesn't seem quite so far-fetched anymore, mostly because of what Dickey is doing. If you gave GM Sandy Alderson truth serum, he'd tell you he had no such thoughts when this season began, as he goes about trying to build the foundation for long-term contention in the future. And this isn't to say the Mets should do anything crazy at the trading deadline, such as dealing away a Matt Harvey or a Zack Wheeler for somebody such as Ryan Dempster or Matt Garza.
• Writes columnist Jeff Bradley in the Star-Ledger about Santana's bounceback:
And so it took three starts for Johan Santana to get back to the business of hanging zeroes on the scoreboard and not pitches in the strike zone. Crisis averted. "He's back in his routine," Mets manager Terry Collins said after Santana threw six scoreless innings in the Mets' 5-0 victory over the Orioles tonight at Citi Field. "It was a big night. I think now he's back. I think now we'll see a lot of nights like tonight." Poor Collins had to be tossing and turning the last two and a half weeks. Not that he should have been harboring even an ounce of guilt for allowing Santana to throw the 134 pitches needed to finish his historic June 1 no-hitter.
• Jason Bay underwent an MRI and a second day of exams by doctors Tuesday as they try to gauge the extent of his most recent concussion.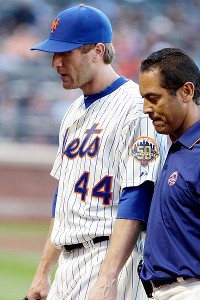 Frank Franklin II/Associated Press
Jason Bay underwent an MRI on Tuesday to try to determine the extent of Friday's concussion.
Orioles second baseman Brian Roberts can empathize with Bay. He returned last week after missing nearly 13 months with concussion-related issues. "I had migraine headaches for probably eight months, a lot of dizziness, a lot of balance problems," Roberts told Tom Pedulla in Newsday. "Any time I needed to exert a lot of energy, I just couldn't do it." Read more in the Times.
• Ruben Tejada (quadriceps) went 0-for-4 while playing a second straight full game at shortstop for Class A St. Lucie. Tejada is expected to move to Triple-A Buffalo on Thursday. Ronny Cedeño made a fifth straight start for Buffalo on Tuesday, going 1-for-5 with an RBI. He is expected to be activated from the DL on Friday, for the Subway Series opener against the Yankees.
The returns of Tejada and Cedeño will set up interesting decisions for the Mets roster-wise. Quintanilla is out of options and must be exposed to waivers before being sent to Buffalo, and organization officials have been skeptical he would get through, perhaps preserving his spot. Valdespin, though, has started to pick up his play. (He is unlikely to start today against the southpaw Matusz.) Vinny Rottino also is on the 25-man roster. Read more on Valdespin in the Post and Daily News.
• The weekend matchups against the Yankees:
Friday: LHP Andy Pettitte (3-2, 2.77 ERA) vs. Niese, 7:10 p.m.
Saturday: RHP Ivan Nova (9-2, 4.32) vs. Chris Young (1-1, 3.06) 7:15 p.m., Fox
Sunday: LHP CC Sabathia (9-3, 3.55) vs. Dickey (11-1, 2.00) 8:05 p.m., ESPN
• Matt Harvey limited Norfolk to one run on six hits and two walks while striking out seven in six innings and Jenrry Mejia contributed two scoreless relief innings in his third appearance since a conversion to relief as Buffalo beat the Tides, 6-1. First-round picks Gavin Cecchini (0-for-3, two walks) with Kingsport and Kevin Plawecki (0-for-4, HBP) with Brooklyn made their pro debuts. Read Tuesday's full minor league recap here.
• David Wright continues to lead in NL voting at third base for the July 10 All-Star Game in Kansas City. Wright (1,977,388) is ahead of San Francisco's Pablo Sandoval (1,612,497), Atlanta's Chipper Jones (1,547,221) and St. Louis' David Freese (1,540,085). No other Mets position player appears in the top five in voting at his spot in the infield or in the top 15 in the outfield. Collins will serve on NL manager Tony La Russa's staff. Dickey is the potential NL starter and should be in K.C. as well.
• Collins publicly declared he had toyed with having Dickey start every fourth day, with other Mets pitchers slotting around the knuckleballer. The manager eventually shelved the idea for the time being because it would disrupt the other starters' routines and potentially adversely affect their performances. And, at 37, Dickey isn't exactly a spring chicken anymore. Writes Brian Costa in the Journal:
In theory, [Dickey] said he could regularly pitch on three days' rest. The question is how effective he would be. In 11 career starts with three or fewer days of rest, Dickey has a 5.74 ERA. And while he might not have to exert quite as much force as other pitchers, he does not possess a bionic arm. Pitching still takes a toll. He is still 37 years old. "It's a mental grind," Dickey said. "Not that I don't love the challenge of that. It's just all of it [together]. You feel it in your feet, your knees, your joints, your hips. I know I move around out there like an 18-year-old, but I'm not one." That's one reason Collins nixed the idea to use Dickey more often. The other is how it would affect the rest of the rotation. Starting pitchers are creatures of habit, and using Dickey every four days would make for a quirky schedule.
Read more in the Post, Newsday, Record and Star-Ledger.
• Dan Martin in the Post notes Dickey is willing to share his knuckleball insights with serious pupils. Frank Viola Jr., 28, the son of Savannah pitching coach/ex-Met Frank Viola, was a student during spring training, regularly watching Dickey's bullpen sessions. Martin notes Dickey also has helped 18-year-old Stephen Orso from Port Washington. "He got me to where now I can pinpoint my knuckleball better than my fastball," Orso told Martin. "Without him, I don't think my knuckleball would be where it is."
• Another Viola, Frank Jr.'s sister Brittany, will compete in the U.S. Olympic diving trials on Wednesday, looking for a spot in London, notes Aimee Berg in the Journal.
• Andrew Keh in the Times traces Dickey's early pro days throwing the knuckleball in the minors. Keh writes about Dickey's July 24, 2005 debut as a full-time knuckleballer, with Triple-A Oklahoma City:
Instead of success that day at SBC Bricktown Ballpark in Oklahoma City, there was disaster. Over five and two-thirds excruciating innings, Dickey gave up 14 hits and 12 runs before Bobby Jones, who was managing the RedHawks at the time, went out to rescue him. "I remember that game very well," Jones, who now manages the Round Rock Express, the Rangers' current Class AAA affiliate, said in a telephone interview Tuesday. "We were just going to leave him in there, and we knew we were going to take a loss that day if he didn't have it.
"It wasn't pretty," Jones added with a laugh.
• Columnist Mike Vaccaro in the Post salutes Dickey. Writes Vaccaro:
We wouldn't be nearly as amazed by this if he were a classical ace in the classical sense. Seaver, a vintage fireballer, probably had his best season as a Met in 1971, a year he pitched to a 1.76 ERA. That year he enjoyed a 13-game stretch in which he allowed 12 earned runs, threw 10 complete games (including a 10-inning, 1-0 loss) and had six games of double-digit strikeouts. The last 25 games of Gooden's storied 1985 season he went 18-1 with an ERA of 1.39. The first 22 games of Guidry's '78 season he started 15-1 with a 2.03 ERA and four shutouts, and struck out 18 Angels one night. In 1956, Don Newcombe went 13-1 in July and August and threw back-to-back-to-back shutouts at the Cubs, Braves and Pirates. Those were terrific pitchers at the top of their games, known for their high heat and their dominance. And yet Dickey's numbers certainly deserve a spot in the same paragraph.
• Columnist Kevin Kernan in the Post praises the Dickey-Santana tandem.
• Stony Brook University's baseball team, which reached the College World Series, was honored before Tuesday's game at Citi Field. Read more in Newsday.
TRIVIA: Cecchini was born in Louisiana. Who was the last player to appear in the majors for the Mets who was born in that state?
Tuesday's answer: In Game 2 of the 1969 World Series, Jeremy Koosman tossed 8 2/3 innings and outdueled Dave McNally, who contributed a complete game for the Orioles.