Center fielder Brandon Nimmo remained in extended spring training in Port St. Lucie, Fla., when fellow Mets minor leaguers broke camp in early April, bound for the organization's four full-season affiliates -- Buffalo, Binghamton, St. Lucie and Savannah.
Truth be told, Nimmo -- the 13th overall pick in the 2011 draft -- was at least mildly disappointed at being left behind at the organization's Florida complex.
"Obviously you have those high expectations that you set for yourself that you want to break with a [full-season] team," said Nimmo, a righty-throwing, lefty-hitting center fielder. "You don't want to lie to yourself. It's a little bit of a letdown when you don't break with the team, because that's what you're working for that whole offseason -- to break with a team out of spring training and get the season started.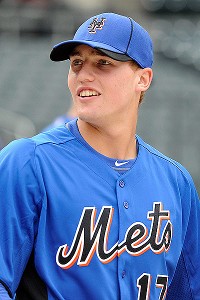 Courtesy of New York Mets
Brandon Nimmo
"But extended [spring training] did a lot of good for me. You don't have to be under the spotlight, having to get results at a long-season team. The guys in the front office, they've been doing this a lot longer than I have. So they know what needs to happen. Now, looking back on it, it was good -- what I needed -- and now we can move forward."
From when he reported in late February to Port St. Lucie for a camp for top prospects until joining the Brooklyn Cyclones for Monday's New York-Penn League season opener, Nimmo nearly exclusively had been practicing at the Mets' Florida complex. The exception: Nimmo, 19, did get a two-day visit with his family in Cheyenne, Wyo., early this month.
Nimmo was not alone in waiting until June to begin his first full professional season.
Of the 32 high school players drafted in the first round in 2011, including supplemental picks:
• Fourteen were assigned to full-season minor league teams out of spring training, or shortly thereafter.
• Two joined full-season teams in late May.
• Fourteen, including Nimmo, did not appear for full-season clubs at all.
• Two never signed.
Through two games with the Cyclones, a home-and-home matchup with the Yankees, Nimmo is 1-for-6 with three walks.
"It's been definitely a long time. I think the last game I actually played for people was back in the beginning of September last year," Nimmo said. "And that was only three games [with Kingsport]. This is definitely a big change -- one that I've been waiting for a while to get after. I love the feeling of playing in front of people, that competition and actually playing for a championship that has meaning in a season. I thrive off of that stuff, as every athlete does. It's great to be back in that atmosphere."
After signing for $2.1 million, Nimmo hit .241 with two homers, four RBIs, three walks and nine strikeouts in 32 plate appearances in the Gulf Coast League. He then made the Appalachian League cameo with Kingsport.
How has he improved in the past year?
"I think just overall playing the game -- thinking things through," Nimmo said. "It's a lot of the mental stuff. They draft you because you have tools to play. Then you've got to go through the mental part. You think you know the game, but you really don't. I still don't know it as well as I need to. It's really thinking a couple of steps ahead what's going on, knowing what to do so you can just react when the stuff happens, going up with the right approach, studying pitchers. There's a lot of mental things that you have to learn that I think I've gotten a lot better at."
Before departing Port St. Lucie for Coney Island, Nimmo met 2012 first-round pick Gavin Cecchini, a high school shortstop from Louisiana.
"I got to talk to him for a while," Nimmo said. "He's a great kid. I've got nothing but good stuff to say about him. He can play. And he's got good character."
Nimmo said it is hard to believe it has been a full year since he was the new draftee, the one in Cecchini's shoes.
"When I realized that the [2012] draft was coming up, I was like, 'Oh my gosh, it's already been a year since the draft,'" Nimmo said. "Time has been flying by. I didn't even know the draft was coming up. I thought about it, and thought about everything that's happened in the past year, and was like, 'Oh, my goodness. That's a lot of stuff in the past year.'
"Yeah, I'm starting to get a little older," Nimmo continued with a laugh. "I'm not the new kid on the block anymore. Everyone has been giving me [ribbing] for that. 'You're not the baby anymore.' Definitely the year has been going by fast. But there's been a lot of learning. I've got a year of baseball under my belt and I'm better for it."
LOOK FOR PART II OF THE FARM REPORT AT NOON, WITH ORGANIZATIONAL STANDINGS AND PLAYER NOTES.
Adam Rubin's farm report appears Wednesdays during the regular season