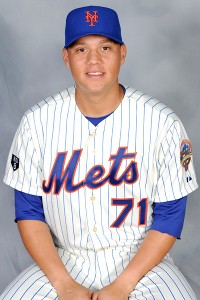 Courtesy of New York Mets
Wilmer FloresWilmer Flores, the organization's one-time top prospect, may make his Double-A debut as soon as Thursday with Binghamton, an organization source said. A team official said the Mets were not yet prepared to make an announcement.
Flores, who earned MVP honors at Saturday's Florida State League All-Star Game, has shifted primarily to third base this season after previously only playing shortstop with the organization since signing on his 16th birthday, on Aug. 6, 2007.
Flores is hitting .289 with 10 homers and 42 RBIs in 242 at-bats with Class A St. Lucie. He has a .336 on-base percentage and .799 OPS.
UPDATE: The Mets have confirmed the promotions of Flores as well as previously reported right-hander Cory Mazzoni and shortstop Wilfredo Tovar, plus catcher Francisco Pena.