Truth be told, Dillon Gee wanted to pitch a complete game. He had to settle for logging 7 1/3 innings -- the third-longest outing of his career. A two-run homer by Wilson Betemit, then a one-out walk prompted Terry Collins to pull Gee in the eighth with Baltimore having pulled within two runs.
Gee, while not quite matching the efforts of R.A. Dickey and Johan Santana, nonetheless took the Mets' staff's scoreless streak to 29 innings, the longest in the majors this season, before surrendering the pair of runs in the eighth, in what became a 4-3 win.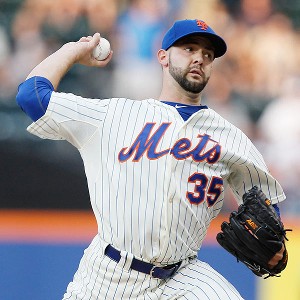 Mike Stobe/Getty Images
Dillon Gee took a scoreless effort into the eighth inning Wednesday against Baltimore."I'd be lying if I said I wasn't a little bit," Gee said regarding thinking about a complete game. "But I know, just like it happened tonight, things happen quick."
Gee, following the lead of Chris Young, prepared two pages of notes on Orioles batters in addition to his standard video review in advance of the game. It was the first time in his career that Gee did written preparation. Young had explained to Gee that having notes and committing them to memory allows a pitcher to throw with more conviction, since he then knows he is throwing the right pitch in the right moment while on the mound.
As for being unable to keep the scoreless streak going, Gee said about Dickey and Santana: "You see what they do and you want to do the same thing, and keep the streak going and not let anybody down. At the same time, you have to fight that, because I know I'm not Johan. I'm not R.A. Dickey. I've got to go out there and be me and focus on my game and execute pitches. ... It's tough to follow these guys. What they're doing is unbelievable."
Gee was particularly pleased he did not allow a leadoff batter to reach until Nick Johnson singled to open the eighth.
"(Pitching coach) Dan (Warthen) had told me before the game that I think I lead all of the National League in leadoff guys getting on base," Gee said. "And that's something we've been working on. I've got to be aggressive, get that guy out and set a good tone."