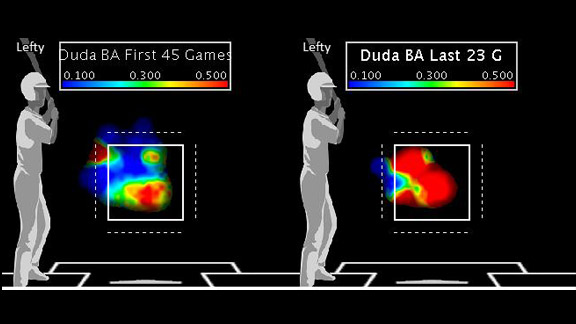 Getty Images/Mike Stobe
Lucas Duda is faring better against pitches over the middle and inside parts of the plate.
Chris Young Stats To Watch
The primary issue that Young has run into in his last two starts is a little bit of bad fortune. He's given up 14 ground balls and eight of them have found holes and been base hits. Four of those (along with a line-drive single) went right back through the middle.
Young has thrown first-pitch strikes at a high rate (67 percent), but he's run into trouble when he's fallen behind in the count. Opponents are 6-for-14 with five walks if they get ahead 1-0 against him. They've reached 13 of 44 times (with no walks) when he's gotten up 0-1.
Matchups to watch for Young include Russell Martin, who is 8-for-25, and 6-for-his-last-15 against Young (who has also walked Martin six times) and Raul Ibanez who is 6-for-his-last-12 versus Young.
Murphy Back in the Lineup
Terry Collins said Daniel Murphy would be back in the starting lineup against Yankees starter Ivan Nova.
Murphy's batting average has dropped 31 points, from .301 at the start of the month to .270 currently month, and he's only drawn one walk in 71 plate appearances in June. Not all of this is Murphy's fault. He's made six line-drive outs in June after making only nine in the first two months of the season.
Murphy has also failed to take advantage of certain situations like he usually does. If a pitcher threw a two-strike pitch over the plate in April and May, Murphy hit it to a .400 average (22 hits). In June, he's a meager 2-for-14 against those two-strike pitches.
Duda-ronomy
Right fielder Lucas Duda has reached base in each of his last 23 games entering Saturday.
It took Duda a little while to get going, but he seems to have embraced hitting coach Dave Hudgens' philosophy of picking out his pitch and driving it.
Duda was 10-for-44 with one home run and 11 strikeouts, against pitches that our pitch-tracking system judged as being in the area in the left-most heat map atop this piece (that encompasses about two-thirds of the strike zone, and a little bit out of the zone as well).
During this 23-game stretch, he's 10-for-19 against those pitches with five home runs and no strikeouts.
The Wright Touch
Third baseman David Wright enters with a 12-game hitting streak. Wright's five doubles during the streak give him 24 for the season, one more than he had in all of 2011.
Wright is also on a good run against right-handed pitching, with 10 hits in his last 22 at-bats against righties. He's hitting .368 for the season against them, 21 points better than the right-handed batting title qualifier with the next-best numbers, Carlos Ruiz.
What the Mets are up against
Ivan Nova is 12-0 in his last 15 road starts and 4-0 in his career in interleague starts on the road. For more on the Yankees perspective, check out Katie Sharp's W2W4 here.