Chris Young will be tossing and turning in his sleep about the final pitch he threw Saturday night, which Raul Ibanez turned into a three-run homer that sparked the Yankees to an eventual 4-3 win.
"It was the worst pitch I threw tonight and it ultimately cost us the ballgame," Young said.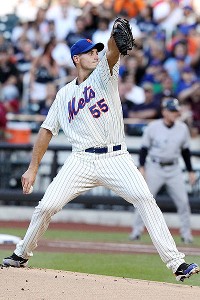 Brad Penner/US Presswire
Chris Young was brilliant on Saturday -- until his last pitch, to Raul Ibanez.
While the right-hander cruised for six innings against the Yanks, that home run in the seventh ruined what had been an otherwise great outing. Young threw six-plus innings of three-run ball, only giving up four hits and walking three in a no-decision.
"I'll try to look at the positives and see some improvements over my last couple of starts," Young said. "But ultimately, it's about winning and losing, and that pitch cost us tonight and I'm frustrated but that's baseball. You have to give them credit for hitting it."
For the first six innings, Young looked as impressive as he had all year, holding the Yankees to just two hits. He induced plenty of weak contact, and kept himself out of trouble. The Yankees had managed just three at-bats with runners in scoring position.
In the seventh, it all went south in the stretch of three pitches. Young first walked Mark Teixeira on a 3-2 pitch that just missed the plate. Nick Swisher followed with a double, aided by a Lucas Duda fielding gaffe.
The right-fielder took his first step back, when he should have come in, and then took an ill-advised dive at the ball, missing it while it skirted past him for a double. That put runners at second and third with no outs.
On the next pitch, Ibanez hit a liner to right that just cleared the wall and tied the game at 3. Young departed, his masterpiece disappearing in the blink of an eye. His right-fielder put the blame on himself for misplaying the ball.
"It kind of changed the momentum of the game," Duda said. "I take credit for that. That's a big game-changer. It's tough to let a guy down like that when he's pitching so well."
Young's teammates praised his performance, with manager Terry Collins saying that Young pitched an "absolute great game." He's 1-1 on the year with a 3.42 ERA after returning from surgery to repair a torn anterior capsule in his right shoulder.
While Young will kick himself and lose some sleep over this game, overall he's pleased with how his body is holding up and how he has performed in his first four starts.
"I'm happy with where I am. I feel like I've gotten better each start. Minus the home run tonight I felt like I was on the right track," Young said. "I feel good physically and feel like there is still room for improvement. I'm optimistic that my stuff is going to get better and sharper and stronger as the season progresses, and ultimately my arm has been up to the task every time and that's what I've asked of it. I'm excited about that."