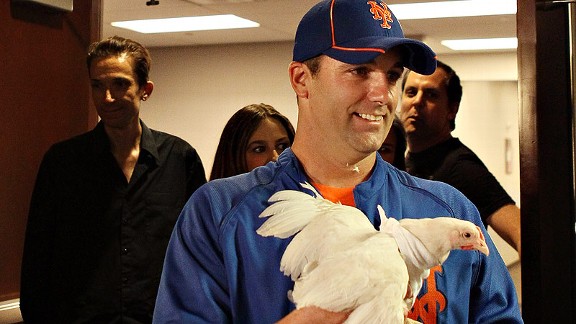 Elsa/Getty Images
Tim Byrdak holds Little Jerry Seinfeld before Sunday night's game.The Mets' new team mascot, "Little Jerry Seinfeld," has found a permanent home.
The chicken will be heading to Farm Sanctuary in Watkins Glen, N.Y., according to a spokesperson for the sanctuary.
Lefty reliever Tim Byrdak, who came up with the idea to purchase the chicken and didn't want to see it killed, presented the chicken to Farm Sanctuary representatives in a ceremony outside the Mets' clubhouse on Sunday night.
"We're so thrilled that this chicken will get to enjoy his days with the other chickens at Farm Sanctuary," Farm Sanctuary spokesperson Meredith Turner said. "He's a very lucky bird, luckier than the rest of the market and the others who suffer.
"We couldn't be more thrilled. Tim contacted us and made sure this bird would be able to enjoy the life that all chickens deserve."
Click here for the complete story.