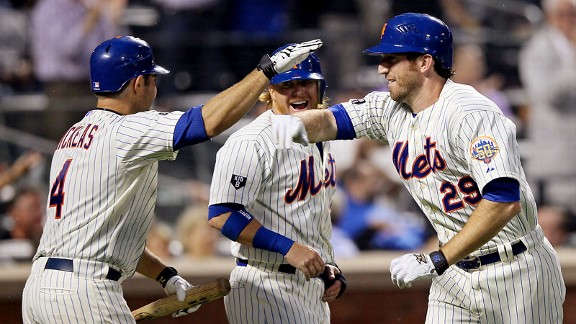 Elsa/Getty Images
Ike Davis celebrates part of the 13-game hot streak in which he's hitting .342.Stat of the Series
Robinson Cano's 452-foot go-ahead home run versus Miguel Batista in Sunday's series finale (the longest home run this season against a pitch labeled a "splitter" in our pitch-tracking system) marked the third time this season that the Mets allowed a go-ahead home run to the Yankees in the seventh inning or later.
From 1997 to 2011, the Mets had allowed a total of three go-ahead home runs in the seventh inning or later to Yankees hitters.
The Yankees hit 15 home runs in the six games. They will likely be the first team to average more than two home runs per game against the Mets in a season, among teams that played the Mets at least six times that year.
High-Five
Via the Elias Sports Bureau, the Mets' five-run first-inning in Friday's win marked the most runs the Mets have ever scored in the opening inning of a game against the Yankees.
Be Like Ike
Ike Davis hit his eighth home run of the season against Andy Pettitte in Friday's series-opening win. It was the fifth home run Davis had hit with at least two men on base, which tied him for the major-league lead in such home runs with Brandon Inge of the Athletics.
On a more unusual note: it marked the fifth time in Mets history that a left-handed hitter, hitting seventh or lower in the batting order hit a home run against a lefty pitcher that brought in at least three runs.
The other four Mets to do it are Ed Kranepool (1966), Wayne Garrett (1974), pitcher Walt Terrell (1983) and Doug Mientkiewicz (vs former Met Al Leiter in 2005).
Ouch, Rauch
My Yankeemetric-writing colleague Katie Sharp came up with a good, albeit painful note from Saturday's defeat: Jon Rauch is the first Met to allow two go-ahead home runs in the seventh inning or later against the Yankees in a career (he gave up two within a couple of weeks).
Rauch's seven-game losing streak is the longest by a Mets pitcher since Aaron Heilman dropped seven straight in a stretch spanning the 2007 and 2008 seasons. The last longer one by a Mets reliever was a 10-gamer by Mike Stanton from 2003 to 2004.
Get a Whiff of This
The 15 strikeouts by Mets hitters on Saturday was their most in a regular-season game against the Yankees. It marked the second time this season that the Mets struck out 15 times in a game of nine or fewer innings. They also did so against the Nationals on April 11. Only once previously in their history had they struck out 15-or-more times twice, in games of nine or fewer innings, in the same season -- in 1982.
Not as Awesome as Usual
R.A. Dickey had three significant streaks end on Sunday night- his string of 44 2/3 innings without allowing an earned run (the longest since Orel Hershiser's 59-inning scoreless streak in 1988), his career-best 52 2/3 homerless innings.
For all his struggles, Dickey had only one season-low among his advanced pitch-performance stats. Yankees hitters swung at only eight of 39 pitches Dickey threw that were out of the strike zone (18 percent).
That was the lowest "chase percentage" against Dickey since the Yankees chased 17 percent of his out-of-zone pitches last July 3.