CHICAGO -- Terry Collins held back Tim Byrdak for a potential ninth-inning matchup against Robinson Cano on Sunday night, because Collins wanted a safety net for Bobby Parnell in his first game as interim closer.
As a result, Collins got burned by a Cano homer against Miguel Batista to lead off the previous inning.
Now? Collins has a second left-hander at his disposal.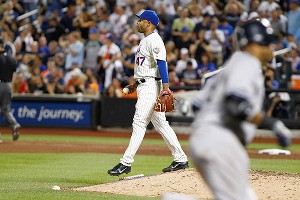 Debby Wong/US Presswire
Miguel Batista served up the game-deciding homer to Robinson Cano on Sunday night because Terry Collins was holding back Tim Byrdak for potential later usage.
Collins said Sandy Alderson came to him postgame Sunday with a resolution to add the best available left-handed reliever. Justin Hampson, 32, was summoned from Triple-A Buffalo, pushing utility man Vinny Rottino off the roster.
"It allows me to save Timmy for the key situation in the game," Collins said. "Possibly against certain left-handers, you'd use (Hampson) midgame to get out of some jams. I hope."
Collins had two lefties in the bullpen for brief spurts earlier this season, but never felt completely comfortable with inserting rookie southpaw Robert Carson in a critical spot at this stage of his career. The manager believes Hampson, who has appeared in a combined 79 games with the Padres and Rockies, will be more capable of handling a situational assignment in an important spot.
"Hopefully he's excited to be here, and I'm sure he's going to be a little bit nervous, but he's been on this stage before," Collins said. "He knows what he has to do. I think he'll probably stay within himself a little bit better than Robert has. But we think Robert Carson certainly is going to have a real good future here."
The Mets had acquired right-hander Ramon Ramirez from San Francisco last offseason in part because of his promise against left-handed batters, but Ramirez is not ready for an integral role. He was activated from the disabled list before the Subway Series finale despite allowing three runs on four hits and a walk while recording only two outs in his lone rehab appearance with Triple-A Buffalo.
"He hasn't thrown a lot of innings up until this point. His outings in the minor leagues were sketchy, at best, as he's trying to get his arm strength back," Collins said. "... I talked to (Buffalo manager) Wally (Backman) the other day. And Wally said he's just not making his pitches just yet and his velocity is down a little bit as he's getting his arm strength back."
Collins said he did not ask for Hampson, or any bullpen help.
"Sandy came to me and said, 'We're going to get you the best lefty we can find you,'" Collins said. "I just said, 'Do whatever you've got to do.' ...
"I've never gone to Sandy and asked for anything. Never will. I've got guys in that clubhouse that I believe in and trust, and think there's a place for each and every one of them. You know what? (Alderson) is well aware of what's going on here. He knows what our needs are. Either we have the ability to get them or we don't.
"I've been there before where I've actually asked for guys and the general managers tried and the asking price is too high and you never get them, and you're disappointed. One of the things I've tried to do is not worry about that anymore. I worry about what I do have and how we can use that to be successful."