CHICAGO -- Terry Collins sensed there might be a letdown after the Subway Series, so he addressed his players before Monday's game.
Collins' message to his players: You performed admirably during a stretch of eight straight series against teams with winning records. But now is the time to finish the first half strongly and charge into the July 9-12 All-Star break.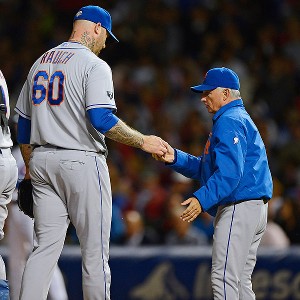 Jonathan Daniel/Getty Images
Terry Collins pulls Jon Rauch during a disastrous seventh inning on Monday night at Wrigley Field.Collins then watched his Amazin's sleepwalk through a 6-1 loss to the Chicago Cubs at Wrigley Field.
One of the few bright spots: Aside from a two-run homer surrendered to Joe Mather, Johan Santana looked relatively sharp, particularly with his changeup.
"Johan pitched a good ballgame and got one ball up to Mather," Collins said. "With that wind blowing in, you have to hit it really good to get it out of here. But we were a little flat."
As for his pregame message, Collins added: "They understood the situation. But as we continue to state, they're human beings. The adrenaline can knock you down for a while. The fact that they got about five or six hours of sleep didn't help either. ... I just told them I understand what they've been through in the last month, and there's been a lot of talk and written about it and mentioned about it. And they played their hearts out. They got us where we are, but we can't stop now. We can't just sit on the last 25 days and the fact that we've played all these teams that are in playoff contention. We've got to take a deep breath, reach inside, grab some energy and finish the first half out strong, until the break."
Santana had traveled ahead of the team.
"I was fine, just waiting and hoping to do my job and help them, because I knew they had a tough night last night," Santana said. "It didn't work out. We just have to rest tonight and be ready tomorrow."