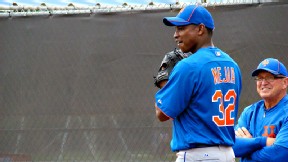 Adam Rubin
Jenrry Mejia temporarily could be back to starting duty with Buffalo after struggling as a reliever.CHICAGO -- Jenrry Mejia's two-week reintroduction to bullpen work to prepare him for the majors is nearly complete. He is scripted to throw a multi-inning, 40-pitch outing Wednesday for Triple-A Buffalo.
Afterward, however, Mejia very well may be headed back to starting rotation work with the Bisons -- not the major league bullpen -- according to Terry Collins.
After rehabbing from Tommy John surgery as a starting pitcher, Mejia has underwhelmed in five relief appearances with Buffalo, allowing seven runs (six earned) on nine hits, three walks and a hit batter in four innings. He has been leaving his cutting fastball over the middle of the plate against left-handed batters, prompting them to crush the offerings.
The Mets are expected to hold a conference call soon to discuss Mejia's future.
Putting him back in the rotation is not an indication that starting is in his future. In fact, the organization still views Mejia as a reliever long-term. Instead, the work in a starting role merely would be a vehicle to get Mejia into a routine to try to get him back on track.