CHICAGO -- After consecutive losses to the lowly Chicago Cubs, New York Mets manager Terry Collins said he was without explanation for his team's sloppiness.
"I haven't the faintest idea," Collins said about the reason after Chicago beat the Mets, 5-3, Tuesday night at Wrigley Field. "I don't know if it's fatigue. I don't know what it is. But we didn't run the bases. We didn't play good defense. We didn't drive in runs we needed to drive in. It was a combination of a lot of things. We didn't pitch very good."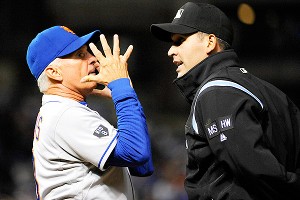 David Banks/US Presswire
Terry Collins took up the cause for Ike Davis after the first baseman's eighth-inning ejection, but the manager did not have an answer for his team's sloppiness.Collins had cited fatigue for the series-opening loss Monday, since it came after the emotionally charged Yankees series, and with the Mets having arrived in the Windy City at 5:10 a.m. ET. But he was not sure that could apply to Tuesday's game as well.
"I've got nothing to go on except we played two bad baseball games here, and we're a better team than what we've played," Collins said. "You can only judge on the circumstances that are surrounding you, and that's the only thing I can come up with."
With the Mets now 39-36, Collins noted there is an urgency to right the ship and avoid free-falling into the All-Star break.
"Absolutely," Collins said. "We've got to get it stopped. We've got to turn it around right now. Jon Niese has got to give us a ballgame tomorrow. We've got to start playing with some energy, playing with some thought, like we have been all season long. Just two bad games."
As for one particular sloppy play, Collins faulted Lucas Duda for stopping at third in the fourth inning with third-base coach Tim Teufel giving Duda the signal to score on Ike Davis' double in the right-field corner. Duda ultimately was stranded 90 feet from the plate.
"I didn't ask him," Collins said about Duda's explanation. "You're taught to run until you're stopped."
Said Duda: "That was my fault. I caught him a little late. That was tough."
As for Dillon Gee, who allowed four runs in five innings, the right-hander said: "I was pitching out of the stretch the entire game, just out there trying to battle and make pitches. But I left a couple of [them] up that really cost me."
Said Collins: "It's the worst Dillon probably pitched in a while. Nothing was working. He battled through it, got us five innings. I was happy for that."