Left-handed reliever Josh Edgin reported directly to minor league camp for spring training.
Then Edgin, the Mets' 30th-round pick in 2010 out of Francis Marion University, started getting borrowed for Grapefruit League action.
Then, with Tim Byrdak questionable for Opening Day after having undergone March 13 surgery to repair torn meniscus cartilage in his left knee, the Mets even entertained having Edgin -- who at that point had not pitched above Class A St. Lucie -- make the big league roster.
"It just happened," Edgin said about the unexpected spring-training experience. "It happened so quick you didn't have time to think about it. You just had to go pitch. It was definitely awesome. I will say that."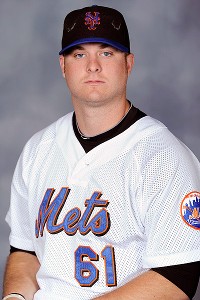 Courtesy of New York Mets
Josh Edgin
Byrdak ultimately worked back quickly and was ready for the season opener, preventing the need for intense discussion among Mets brass about Edgin's worthiness for the Opening Day roster.
Just how close did it come, though? After all, Edgin was lights out in Grapefruit League play, tossing 10 1/3 scoreless innings while allowing only four hits and three walks and striking out 13. Opponents hit .121.
"I have no idea," Terry Collins said, "because I always felt Byrdak was going to be ready. Edgin was a name. [Garrett] Olson was another guy we were going to consider."
Said pitching coach Dan Warthen about bringing Edgin to major league camp: "We liked the power arm. We liked the aggressiveness. We liked his competitiveness in the way he went about his business. He didn't seem to be intimidated by any hitters or anything that we saw."
Edgin, 25, ended up opening the season with six relief appearances at Double-A Binghamton, but he quickly was shuffled to Triple-A Buffalo.
After issuing a walk and two strikeouts in a scoreless inning Tuesday night for the Bisons against Louisville, Edgin is 2-2 with a 4.50 ERA and one save in 29 Triple-A appearances. He has allowed 28 hits and 16 walks and hit one batter while striking out 35 in 30 innings. Lefty batters are hitting .227, with righties hitting .254.
Collins described the current reports from Buffalo manager Wally Backman on Edgin's Triple-A appearances as "up and down."
Edgin's fastball often sits at 92-93 mph, although at Durham last weekend it was all the way up to 97 mph. He also throws a slider and changeup.
"The velocity is good. The command is off at times," Collins said. "He falls behind. It's all a part of the development process. … We've just go to give him a chance to get better. He's gotten to Triple-A in a hurry. In today's game, everybody throws hard. So those [batters] have seen guys who throw hard coming up. That's why you've got to continue to make pitches down in the zone if you can, know when to go upstairs, know when to pitch inside to get guys off [the plate]. That's all about the learning process.
"You know, it's pounded in these young guys' heads 'strike, strike, strike,' which is a great philosophy to have. We all know that's not how you pitch successfully. What you do is you go in that strike zone and then expand it. If you continue to stay in the strike zone, eventually they're going to get swings on it.
"Every time I talk to Wally I ask about him," Collins continued. "He'll have had a good outing, then he'll have had a bad outing where he walked a guy, or where he's come in to face two lefties and hung a slider and then walked the next guy. Even though he's in Triple-A and he's a college kid, he's still learning. But he's going to get here. There's no doubt in my mind."
The Mets called up journeyman left-hander Justin Hampson on Monday to serve as Byrdak's complement in the bullpen. Earlier in the season, fellow southpaw Robert Carson made cameos. That's buying time for Edgin to further develop.
"Definitely Triple-A has a lot more patient hitters compared to Double-A," Edgin said. "I would say that the adjustment has taken a little bit, but I'm all right.
"Just getting ahead of hitters, getting strike one. That's the biggest thing. … You definitely always have to work on location. If you can locate a pitch to exactly where you want it, you're going to have success. I would say location with all of my pitches, they're definitely coming around. I'm having to throw them more for strikes, being that every Triple-A guy can hit a fastball."
LOOK FOR PART II OF THE FARM REPORT AT NOON, WITH ORGANIZATIONAL STANDINGS AND PLAYER NOTES.
Adam Rubin's farm report appears Wednesdays during the regular season