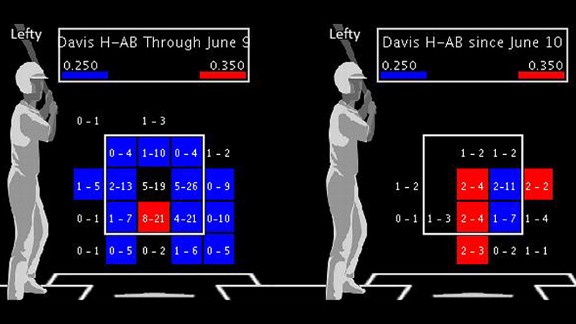 Ike Davis' performance by pitch location this seasonHow did Ike Davis finally get his batting average over .200?
It started with a ninth-inning pinch-hit game-tying double against Yankees closer Rafael Soriano in an eventual loss on June 10.
That began a stretch in which Davis is hitting .347 with five home runs in 49 at-bats over his last 15 games.
A few things have fallen into place in that time, among them:
Seeing More Fastballs
Davis had seen among the lowest rate of fastballs in baseball in the season's first two months, but in the last two-and-a-half weeks, nearly half of the pitches he's seen have been heaters.
That's paid off, particularly in the Cubs series, where all five of his hits came on fastballs, cutters or sinkers, including three in the series finale.
Being Better Outside the Strike Zone
One of the trademarks of Davis' early-season struggles was a propensity to wave wildly at pitches outside of the strike zone. But during this good run, Davis has controlled his flailing.
Ike Davis in 2012
One of the things you can see in the images above is that Davis had only four hits on pitches outside the strike zone in the first two months of the season. He has seven in this current run.
Better Fortune on Line Drives
Early in the season, Davis wasn't hitting line drives often, but when he was, they were being turned into outs at an unusual rate. Of Davis's first 20 line drives, only 10 resulted in hits. The average hitter usually manages 14 hits every 20 line drives.
In this hot streak, Davis is 4-for-5 when hitting a line drive.
Getting His Timing Down
This may not sound like that big of a difference, but it has been for Davis. Though he's missing on his swings at about the same rate both when going good and going bad, he's cut back on his foul balls.
He was hitting foul balls at a 39 percent rate. That has dropped to 31 percent in the last 15 games.
Along with that, Davis has gotten better loft when he hits a fly ball. Of his first 46 fly balls, only five left the ballpark, but among his last 20, five have gone for home runs, including two to left-center field.
Will This Continue?
What will Davis do when pitchers start throwing him more offspeed stuff again. Or when the line drives start getting caught?
We don't have an answer for that, but perhaps you do. Share your thoughts in the comments section.