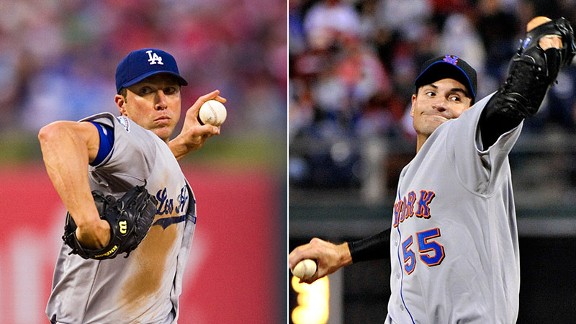 Howard Smith/US Presswire
Former teammates Chris Capuano and Chris Young square off in Thursday's series opener at Dodger Stadium.
METS (40-34, third place/NL East) vs. LOS ANGELES DODGERS (43-33, first place/NL West)
Thursday: RHP Chris Young (1-1, 3.42) vs. LHP Chris Capuano (9-2, 2.60), 10:10 p.m. ET
Friday: RHP R.A. Dickey (11-1, 2.31) vs. RHP Aaron Harang (5-4, 3.81), 10:10 p.m. ET
Saturday: LHP Johan Santana (5-4, 3.00) vs. RHP Nathan Eovaldi (0-4, 4.04), 7:15 p.m. ET
Sunday: RHP Dillon Gee (5-6, 4.42) vs. LHP Clayton Kershaw (5-4, 2.74), 8 p.m. ET, ESPN
Dodgers short hops
• Frank McCourt's ownership ended May 1, when controlling owner Mark Walter, the CEO of a Chicago financial services company, and president Stan Kasten took over the Dodgers. Sale price: $2.15 billion, more than double any previous amount for a major league team. The ownership group includes Magic Johnson as the face. Johnson has McCourt's old corner office, but he is not a key decision maker, and actually has not been around Dodger Stadium much because of his responsibilities as an NBA commentator. McCourt, who went through a high-profile divorce that added debt to the team, had owned the Dodgers since 2004. Kasten formerly served as president of the Atlanta Braves and Washington Nationals.
• Right fielder Andre Ethier was forced from Wednesday's game in San Francisco with a left oblique strain that likely will land him on the disabled list. Ethier joins fellow slugger Matt Kemp as unavailable. Kemp (.355, 12 HR) has been on the DL since straining his left hamstring May 30, and is not projected to return until after the All-Star break. Ethier's 55 RBIs rank second in the NL, trailing only Carlos Beltran's 59. Assuming Ethier is placed on the DL, ex-Pirate Andy Van Slyke's son Scott Van Slyke could be promoted from Triple-A Albuquerque. Jerry Sands is another option.
• San Francisco pulled even with the Dodgers atop the NL West standings after completing a three-game sweep at AT&T Park in which L.A. did not score a run. It marked the first time the Dodgers had ever failed to score in a series of three-plus games, according to ESPN Stats & Information. L.A. has lost four straight and eight of nine. The Dodgers have been held scoreless for 30 innings, since Adam Kennedy's sacrifice fly scored Juan Rivera in the sixth inning Sunday in a loss to the Angels. L.A. will try to avoid getting shut out four straight games for the first time in franchise history on Thursday night. How bad did things get in San Francisco? The Associated Press reported the Dodgers' equipment truck broke down on the 101 freeway after the series.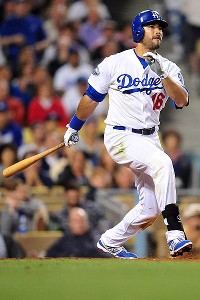 Gary A. Vasquez/US Presswire
Andre Ethier appears headed to the DL with an oblique strain.
• The Dodgers have reached agreement with outfielder Yasier Puig for $42 million over seven years pending a physical, ESPNDeportes.com's Enrique Rojas reports. It would be the largest contract ever for a Cuban defector, surpassing the four-year, $36 million deal the A's gave to outfielder Yoenis Cespedes.
• Ex-Met Chris Capuano evened his career record at 66-66 in his most recent start, when he limited the Angels to one run and seven hits in seven innings. He is 5-0 with a 1.57 ERA at Dodger Stadium this season, while limiting opponents to a .215 batting average at home.
• Right-hander Nathan Eovaldi stepped into the rotation after Ted Lilly experienced shoulder inflammation and landed on the DL. Eovaldi, 22, went to Alvin (Texas) High, which also produced Nolan Ryan. His fastball has averaged 94.8 mph this season. He also throws a slider (13.6% of the time), curveball (10.1%) and changeup (5.0%). Eovaldi has been pitching well; his winless record is a function of no run support.
• Second baseman Mark Ellis is due to begin a rehab assignment Saturday. Ellis required an urgent surgical procedure May 19 to drain blood and other fluid, or otherwise risked losing part of his left leg. He was injured absorbing a slide at second base from St. Louis' Tyler Greene. Jerry Hairston Jr., brother of Scott Hairston, has manned second base.
• Catcher A.J. Ellis (no relation to Mark) has a .417 on-base percentage. That ranks fourth in the National League, trailing only Joey Votto (.478), David Wright (.449) and Carlos Ruiz (.430).
• Right-handed reliever Ronald Belisario has allowed only three runs and 11 hits in 24 1/3 innings since returning from a 25-game suspension on May 4. The suspension was related to a positive cocaine test that also forced him to miss last season with a visa issue, ESPNLosAngeles.com reported.
• Third baseman Juan Uribe is hitting .132 (5-for-38) in the two weeks since returning from the DL. His slump has resulted in switch-hitting rookie Elian Herrera starting two of the past four games at the position. Herrera wasn't on the 40-man roster or even in big-league spring-training camp, but has bounced around multiple positions and plays most days, batting second.
• The lone Dodgers starter the Mets do not face is Chad Billingsley, who overlapped at Defiance (Ohio) High with Jon Niese.
• The Dodgers' Sue Falsone (@SueFalsone) is the lone female head athletic trainer in the history of a major professional sports organization, according to the team.
• Shortstop Dee Gordon's 24 steals match the Cubs' Tony Campano for the major league lead.
• Closer Kenley Jansen has converted 12 of 15 save chances.
Last series results
Mets won, 3-1, at Dodger Stadium, July, 4-8, 2011 (AP game recaps)
Mets 5, Dodgers 2: Angel Pagan, Carlos Beltran and Daniel had RBI doubles in the sixth inning after the Mets were held hitless through five by Rubby De La Rosa. Chris Capuano (8-7) allowed six hits and two runs in six innings. Francisco Rodriguez pitched the ninth to earn his 21st save in 24 chances. Terry Collins said he's willing to play with a 24-man roster for a few days while Jose Reyes recovers from a strained left hamstring rather than immediately placing him on the disabled list. More
Mets 6, Dodgers 0: Jason Bay made it 3-0 with a leadoff homer in the sixth against Ted Lilly and broke the game open in the eighth with his sixth of the season, a three-run shot off Blake Hawksworth. It was his first multihomer game since June 28, 2010, at Florida, when he went deep twice against Ricky Nolasco. Carlos Beltran also went deep and Mike Pelfrey (5-7) stranded seven runners in scoring position through six gritty innings. More
Mets 5, Dodgers 3: Ruben Tejada doubled home two runs while filling in again for injured shortstop Jose Reyes, helping lead the Mets to their fourth straight victory. Carlos Beltran doubled twice and scored twice. Jon Niese (8-7) allowed three runs and five hits over seven innings, improving to 8-4 over his past 14 starts. Hiroki Kuroda (6-10) gave up four runs and eight hits over six innings for Los Angeles, dropping to 1-5 with a 5.75 ERA in seven career starts against the Mets. More
Dodgers 6, Mets 0: Clayton Kershaw scattered five hits over eight innings and the Dodgers parlayed extra-base hits by Matt Kemp, Juan Uribe, Aaron Miles and Dioner Navarro into a five-run sixth inning. Kershaw got out of a bases-loaded jam in the eighth by striking out Ronny Paulino to end the inning after getting a visit from manager Don Mattingly. The Mets loaded the bases again in the ninth against Kenley Jansen before Hong-Chih Kuo got the final two outs. Dillon Gee (8-3) gave up five hits and six runs -- five earned -- struck out two and walked one to lose his second straight. Jose Reyes went on the 15-day disabled list with a strained left hamstring. More