LOS ANGELES -- David Wright has passed Darryl Strawberry for the franchise's RBI record this season. He also has passed Jose Reyes for most runs scored in a career by a Met.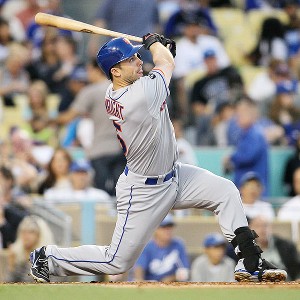 Victor Decolongon/Getty Images
David Wright's fourth-inning solo homer against Chris Capuano staked the Mets to a 2-0 lead.
Yet matching Howard Johnson for third on the franchise's all-time home run list on Thursday night with No. 192 also proved meaningful. Wright has labeled HoJo -- his former hitting coach in the minors and majors -- as his "baseball father." They remain in regular contact. Wright even watched the Super Bowl at HoJo's house near Port St. Lucie again this year.
Strawberry has the franchise record at 252 homers, followed by Mike Piazza with 220.
"Obviously I'm close with 'Hoj.' He's always the first one to congratulate me when I do good things," Wright said. "He'll text me after a good game or something like that. And he was a very, very good player. To do these records and be mentioned with him -- he's that 30-30 guy -- that's the type of guy I want to be."
Wright also become the franchise's all-time walk leader Thursday night, passing Strawberry with No. 581.
"They tell you when you're 5 years old playing Little League, a walk is as good as a hit," Wright said. "So I guess that's good."