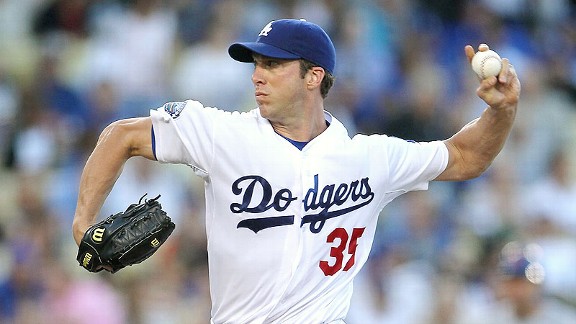 Victor Decolongon/Getty Images
The Mets handed former teammate Chris Capuano only his third loss of the season Thursday.LOS ANGELES -- Even former teammates Chris Capuano and Chris Young appreciated the meaning of lining up to face each other Thursday night at Dodger Stadium.
Both pitchers signed with the Mets two offseasons ago, looking to re-establish their careers.
Capuano pitched a full season and parlayed the success into a two-year, $10 million deal with the Dodgers.
Young managed only four starts before requiring surgery to repair a torn anterior capsule in his right shoulder. But he is back now and succeeding, as was again in evidence Thursday.
Young handed Capuano only his third loss in 12 decisions as a Dodger as the Mets won the series opener, 3-2.
"I know Chris started off so great last year and was pretty down when he went down with that injury," Capuano said after allowing three runs on five hits in seven innings. "I just told him, 'You know what I went through,' and knew that him, being the kind of person that he was, as smart as he is, that he was going to have a great plan and work that plan every day and come back. And he did.
"He's still young. He's still throwing the ball great. He's got so much deception in his delivery and he's a competitor out there."
Said Terry Collins: "I thought Sandy [Alderson] did a tremendous job bringing those guys into camp. We needed starting pitching. They both pitched great coming off injury. One of them had an injury, but to have them face off tonight, certainly you tip your hat to both those guys, with what they've gone through."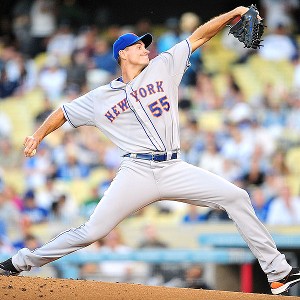 Gary A. Vasquez/US Presswire
Chris Young made his fifth 2012 start Thursday, exceeding his total of either of the previous two seasons.
Capuano never was a serious consideration for the Mets to re-sign this past offseason, despite going 11-12 with a 4.55 ERA in 33 appearances (31 starts) in 2011. He wanted a multiyear deal. The Mets were on austerity, looking for value additions, of which Capuano no longer qualified after his success a season ago.
The head of medicine for the Dodgers did statistical analysis that suggested Capuano's 2011 performance meant he was back to his level of six years earlier with the Milwaukee Brewers, before a pair of elbow surgeries, so L.A. offered a two-year deal with a team option.
"I never had a conversation with them -- ever, really," Capuano said about the Mets this past offseason. "But, at the same time, I knew there were only going to be a few teams that were interested in me on a multiyear basis. The Dodgers were one of those teams that liked me for more than one year.
"Going into last season, New York was just the perfect landing spot for me," Capuano continued. "I was so thankful Sandy gave me a shot to go there and be in the rotation, because there weren't a lot of teams out there that were willing to give me that shot. And I had a fantastic time. I lived in Manhattan. I played for the Mets. And I had an unbelievable time. I was just a great experience."
Young was charged with two runs on six hits while striking out six in 6 1/3 innings. Collins noted the Dodgers' two-run fourth inning against Young could have been different had right fielder Lucas Duda not struggled to track a leadoff double by Dee Gordon and taken a bad route.
"We catch that ball, it's a different inning for him," Collins said about the shot, which dropped between Duda and Andres Torres.
Young has now made five starts this season, which he acknowledged was a meaningful number, since shoulder woes capped his 2010 season with San Diego and then his '11 season with the Mets at four apiece.
"The last couple of years I've never felt completely healthy," Young said. "I feel healthy at this point, so I expect to pitch the full season, the rest of the way.
"I've gotten more swings and misses the last couple of games. It tells me the life on the ball is getting a little bit better. My slider has gotten sharper. It's just a work in progress. It takes time. Everyone I've talked to who's had major shoulder surgery -- some people have said it's taken up to two years to get it completely back.
"It's good enough where it is now. I think I've proven that. But I want to be better, and I think I will be as the season progresses and as the arm strength comes along."