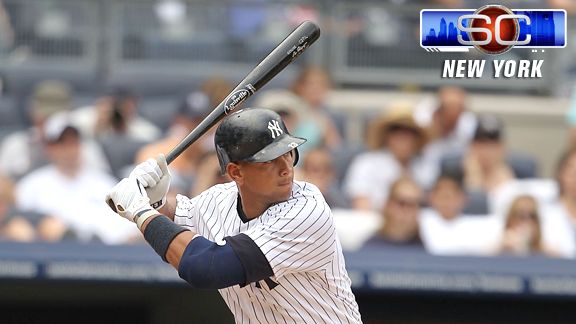 Al Bello/Getty Images
Alex Rodriguez, who has served as DH the past two games since returning from a strained right hip flexor, has only eight homers this season.
METS (38-28, second place/NL East) at YANKEES (41-25, first place/AL East)
Friday: LHP Hisanori Takahashi (5-2, 3.48) vs. RHP Javier Vazquez (6-5, 5.43), 7:05 p.m. ET
Saturday: RHP Mike Pelfrey (9-1, 2.39) vs. RHP Phil Hughes (9-1, 3.11), 1:05 p.m. ET
Sunday: LHP Johan Santana (5-3, 3.13) vs. LHP CC Sabathia (7-3, 4.00), 1:05 p.m. ET
Yankees short hops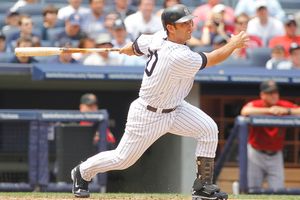 Mike Stobe/Getty Images
Jorge Posada served as DH his first 10 games back from a hairline fracture in his right foot until starting Sunday at catcher.
Alex Rodriguez returned to the lineup Wednesday and has served as designated hitter in both games, going 1-for-4 in each. He had been out since leaving a game at Baltimore last Thursday with a strained right hip flexor. A-Rod had only eight homers in 60 games. … Second baseman Robinson Cano, an American League MVP candidate, has a 10-game hitting streak. He has hit safely in 27 of 29 games since May 17 with a .422 average (51-for-120), five homers and 26 RBIs during that span. Cano already has three hitting streaks of double-digit lengths this season. He leads the majors with a .372 average. … Outfielder Marcus Thames landed on the disabled list with a right hamstring strain, which he irritated last Saturday. Outfielder/first baseman Chad Huffman was promoted. Huffman, who made his major league debut Sunday when he started in right field against the Houston Astros, had been claimed off waivers from the San Diego Padres on April 7. … Jorge Posada caught Sunday for the first time since suffering a hairline fracture of his right foot while getting struck with a foul tip May 16. That snapped a streak of 10 straight games in which Posada had been a designated hitter. Posada again caught Wednesday, then sat Thursday. He has three homers in his past four games. Still, Posada's catching duties have diminished, with Francisco Cervelli getting a significant workload, even though Posada dislikes serving as DH. … First baseman Mark Teixeira is still languishing with a .224 average and 10 homers in 66 games. … Right fielder Nick Swisher (.292, 11 HR, 42 RBIs) could emerge as an All-Star for the first time in his career. … Center fielder Curtis Granderson (strained left groin) spent 24 games on the disabled list in May. He missed the first series against the Mets, at Citi Field. … Who needs Carl Crawford? Left fielder Brett Gardner's numbers (.312, 22 steals) compare to the Rays outfielder/soon-to-be-free-agent's stats (.295, 23 steals). … Javier Vazquez has completed seven innings in each of his three starts this month, and has allowed only 11 hits while going 3-0 with a 2.57 ERA during that span. Friday's outing will be his 400th career appearance (397th start). … Right-hander Sergio Mitre landed on the disabled list Tuesday with a left oblique strain, which he suffered taking batting practice. Mitre had been 0-1 with a 2.88 ERA in 12 games (two starts). Boone Logan was promoted from Triple-A Scranton/Wilkes-Barre. … Reliever Chan Ho Park was presented a National League championship ring by Phillies officials during their interleague series this week. … Andy Pettitte's victory against the Astros last weekend was his 200th in pinstripes. He became the third pitcher to achieve that plateau with the organization, joining Whitey Ford (236) and Red Ruffing (231). Pettitte also had 37 wins with Houston from 2004-06. In his latest start, Pettitte then passed Ron Guidry on Thursday for second on the career strikeouts list as a Yankee. Pettitte has 1,784 Ks. Whitey Ford has 1,956. … Left-handed reliever Damaso Marte had a nine-appearance scoreless streak snapped Thursday, in a series-ending loss to the Philadelphia Phillies. Marte threw 29 pitches -- his highest total since Aug. 10, 2008 at the Los Angeles Angels. Both runners he inherited scored in addition to being charged with a run against the Phillies. Still, Marte has allowed only one hit in his last 10 appearances, spanning five innings. He has walked four during that span. Entering Thursday, Marte had allowed only four of 17 inherited runners to score. … Right-handed reliever David Robertson has not allowed a run in his last five appearances. … The Yankees are 27-5 when they score first. … Derek Jeter's leadoff homer Saturday against the Astros was the 24th of his career, matching Rickey Henderson's franchise record. Jeter leads active players with 2,827 hits and has the most RBIs this season in the majors out of the leadoff spot (39). According to the Elias Sports Bureau, Jeter is the first Yankee to be the active hits leader since Johnny Mize in 1952. … Right-hander Chad Gaudin signed with the Yankees on May 26. He was released by Oakland five days earlier, and had spent spring training with the Yankees. … Closer Mariano Rivera has not allowed a baserunner in his past four appearances.
Matchups
Takahashi vs. Yankees (career: 0-0, 0.00 ERA)
Alex Rodriguez .667, 3 AB
Kevin Russo .500, 2 AB
Robinson Cano .333, 3 AB
Derek Jeter .333, 3 AB
Brett Gardner .000, 3 AB
Mark Teixeira .000, 3 AB
Nick Swisher .000, 2 AB
Francisco Cervelli .000, 1 AB
Pelfrey vs. Yankees (career: 2-1, 3.94 ERA)
Ramiro Pena 1.000, 1 RBI, 2 AB
Nick Swisher .667, 3 AB
Alex Rodriguez .429, 1 RBI, 7 AB
Brett Gardner .333, 6 AB
Jorge Posada .333, 3 AB
Mark Teixeira .267, 2 RBIs, 15 AB
Robinson Cano .222, 1 RBI, 9 AB
Francisco Cervelli .167, 1 RBI, 6 AB
Derek Jeter .167, 6 AB
Santana vs. Yankees (career: 5-2, 4.02 ERA)
Francisco Cervelli .600, 2 RBIs, 5 AB
Derek Jeter .433, 1 HR, 5 RBIs, 30 AB
Robinson Cano .400, 1 RBI, 20 AB
Mark Teixeira .233, 1 HR, 3 RBIs, 30 AB
Alex Rodriguez .192, 2 HR, 2 RBIs, 26 AB
Nick Swisher .176, 1 RBI, 17 AB
Jorge Posada .133, 3 RBIs, 15 AB
Curtis Granderson .000, 12 AB
Chad Moeller .000, 9 AB
Brett Gardner .000, 4 AB
Kevin Russo .000, 3 AB
Vazquez vs. Mets (career: 10-8, 3.24 ERA)
Angel Pagan .400, 5 AB
Alex Cora .381, 1 RBI, 21 AB
David Wright .300, 1 HR, 2 RBIs, 10 AB
Fernando Tatis .300, 10 AB
Jeff Francoeur .286, 1 HR, 4 RBIs, 7 AB
Henry Blanco .200, 1 HR, 3 RBIs, 20 AB
Jose Reyes .188, 16 AB
Jason Bay .143, 14 AB
Rod Barajas .118, 1 RBI, 17 AB
Ike Davis .000, 2 AB
Hughes vs. Mets (career: 0-1, 4.50 ERA)
David Wright .667, 2 RBIs, 3 AB
Angel Pagan .667, 1 RBI, 3 AB
Alex Cora .500, 1 RBI, 2 AB
Jason Bay .444, 9 AB
Rod Barajas .000, 5 AB
Jeff Francoeur .000, 4 AB
Jose Reyes .000, 3 AB
Ike Davis .000, 1 AB
Sabathia vs. Mets (career: 2-1, 3.15 ERA)
Ike Davis .667, 3 AB
Jose Reyes .667, 3 AB
Rod Barajas .409, 3 HR, 5 RBIs, 22 AB
Angel Pagan .333, 3 AB
Henry Blanco .286, 2 RBIs, 7 AB
Jason Bay .273, 2 HR, 3 RBIs, 11 AB
Fernando Tatis .222, 1 RBI, 9 AB
Alex Cora .167, 2 RBIs, 6 AB
David Wright .167, 1 RBI, 6 AB
Last series results:
Mets won 2-1 at Citi Field, May 21-23 (AP game recaps)
Yankees 2, Mets 1: Javier Vazquez pitched one-hit ball for six innings before becoming the latest pinstriped player to leave with an injury and the Yankees took advantage of more inept Mets play to win the opener of the Subway Series. Skipped twice in the rotation this month and making his first start in nine days, Vazquez (3-4) didn't allow a hit until Angel Pagan looped a single to center with one out in the fifth inning, helping the Yankees snap a three-game skid. But he left after he was hit on the finger laying down a sacrifice bunt in the two-run seventh. Kevin Russo got his first hit of the season and first two big league RBIs and Mariano Rivera struggled to earn his first save after two subpar outings, helping the makeshift Yankees win their fourth straight game at Citi Field after sweeping the series last year. Rivera gave up consecutive two-out doubles to Jason Bay and Ike Davis in the ninth inning, bringing a record Citi Field crowd of 41,382 to life before getting David Wright grounding to second for his eighth save in nine chances. With both teams struggling -- the Yankees because of injuries to several key players and the Mets because of an anemic offense and a rotation in disarray -- Vazquez and spot starter Hisanori Takahashi engaged in a fantastic pitchers' duel for six innings. But once manager Jerry Manuel pulled Takahashi and his array of befuddling pitches and a high-kick hesitation delivery that fooled the Yankees, the Mets reverted to the form that has led them to 10 losses in the last 13 games and last place in the NL East. Returning from a 2-6 road trip in which they lost games on a wild pitch and a bad throw, second baseman Alex Cora made a throwing error with one out in the seventh that led to two runs off Elmer Dessens (0-1), who was called up from Triple-A Buffalo earlier in the day when John Maine was put on the disabled list with right shoulder weakness. Befuddling the Yankees with several poor April starts, Vazquez was skipped twice, the second coming after his solid seven-inning outing against Detroit on May 12. But he got one out for the win against Boston in a relief appearance, and was dominant this game. Facing a National League team for the first time since he went 15-10 with a 2.87 ERA for Atlanta last year, Vazquez appears back on track. He struck out six, walked two and even had two deft sacrifice bunts, one that helped the Yankees' seventh-inning rally. The second could be costly, depending on the severity of his injury. Joba Chamberlain, who gave up seven runs in his last two outings, got five outs before giving way to Rivera, who gave up a grand slam in a blown save, then got the loss against Boston two days later. Three relievers overcame Francisco Cervelli's throwing error in the bottom of the seventh, with Chamberlain recovering from a horrendous outing against Boston to strike out Wright and Pagan to end the threat. He pitched a 1-2-3 eighth. The 35-year-old Takahashi made his major league first start in place of injured Jonathon Niese, out with a right hamstring strain. He made 15 relief appearances, none longer than 3 1/3 innings, in his first major league season after signing out of Japan. Manuel pulled Takahashi for a pinch hitter in the sixth inning after throwing 101 pitches.
Mets 5, Yankees 3: Jason Bay tied a career high with four hits and David Wright added a pair of RBI singles, backing a sterling performance by Mike Pelfrey. Pelfrey (6-1) allowed one run and six hits in six innings for the Mets, who scored all their runs with two outs. Angel Pagan had three hits and pinch hitter Alex Cora contributed a key RBI single in the sixth at Citi Field. The slumping Yankees left 14 runners on base in their fourth loss in five games, making it difficult to overcome another subpar performance by Phil Hughes (5-1). Kevin Russo's bases-loaded walk against Fernando Nieve trimmed the Mets' lead to 5-2 in the eighth and brought manager Jerry Manuel out of the dugout. Francisco Rodriguez came in and allowed Derek Jeter's run-scoring grounder before retiring Brett Gardner on a bouncer to third to end the inning. K-Rod then pitched the ninth for his seventh save in nine opportunities, striking out Francisco Cervelli with runners at the corners to end the game. The Yankees also wasted a chance in the seventh when Jenrry Mejia struck out Mark Teixeira and got Alex Rodriguez to ground out after they put runners on second and third with one out. Hughes allowed four runs and eight hits over 5 2/3 innings in his first loss as a starter since May 9, 2009, at Baltimore. The right-hander was coming off his worst start of the season, a no-decision against Boston, when he gave up five runs in five innings. Bay scored three times in his 10th career four-hit game and first since June 23 for Boston at Washington. The Mets needed just one inning to better their total from the series-opening loss. Wright and Pagan had consecutive RBI singles in the first to stake Pelfrey to a 2-0 lead. The Mets lost a shot for more when Wright was thrown out trying to reach third on Pagan's hit, ending the inning. Wright added another run-scoring single in the third, and Pagan doubled in Bay in the seventh. Wright began the day mired in 4-for-33 slump over his last nine games, and was among the major league leaders with 57 strikeouts.
Mets 6, Yankees 4: Jason Bay homered twice off an ineffective CC Sabathia, and the New York Mets held off the slumping New York Yankees behind Johan Santana's stellar pitching. Shut down nearly all night by Santana, the Yankees rallied for three runs in the ninth inning before Francisco Rodriguez struck out Alex Rodriguez on a 3-2 breaking ball with runners at the corners to end it. Alex Cora, a late addition to the lineup, got the offense started with a two-run single in a four-run second inning and the Mets took two of three at home in Citi Field for their first Subway Series victory since a rain-shortened two-game sweep at old Yankee Stadium in May 2008. The city rivals meet again in the Bronx from June 18-20. With a two-run shot in the second and a leadoff drive in the fifth, Bay tripled his home run total in his first season with the Mets, finally flashing the power stroke they had been waiting nearly two months to see. The All-Star slugger signed a $66 million, four-year contract in the offseason after hitting 36 homers and driving in 119 runs with Boston last year. Bay broke out against the banged-up Yankees, who have dropped five of six to fall six games back of first-place Tampa Bay in the AL East. He went 4-for-4 and scored three times in the previous night's 5-3 victory, then followed it up with another perfect night at the plate in front of a Citi Field-record crowd of 41,422. It was Bay's 14th career multi-homer game and first since April 11, 2009, with the Red Sox against the Los Angeles Angels. He began the day batting .345 with four home runs and 22 RBIs against the defending World Series champions. Bay, who also walked in the first, was hit in the back by a breaking ball from reliever Sergio Mitre in the sixth. Plate umpire Marvin Hudson warned both teams, drawing arguments from Mitre and Yankees manager Joe Girardi. Mets reliever Ryota Igarashi, just off the disabled list, dusted Kevin Russo with a high fastball in the ninth. Santana (4-2) was sharp from the start in a marquee matchup with Sabathia (4-3), earning his first win in five outings since April 27 against the Los Angeles Dodgers. The two-time Cy Young Award winner yielded six singles in 7 2/3 innings. He struck out five and did not go to a three-ball count until walking Nick Swisher with two outs in the seventh. Francisco Cervelli followed with an RBI single off the top of the wall in the left-field corner, spoiling Santana's shutout bid. Cervelli thought the ball was a home run and umpires went inside for a look at the replay, but upheld the initial call. Santana was pulled after a pair of walks in the eighth. Pedro Feliciano retired Robinson Cano on a bases-loaded popout to preserve a 6-1 cushion and pounded his glove in delight. Igarashi gave up an RBI single to pinch hitter Juan Miranda before Francisco Rodriguez got two outs for his eighth save in 10 chances. Derek Jeter greeted K-Rod with a run-scoring double on the eighth pitch of the at-bat, and Brett Gardner hit a slow RBI grounder to third. David Wright threw out the speedy Gardner on a close play, prompting arguments from Gardner and Girardi, who kicked at the dirt near first base. Mark Teixeira reached on an infield single, setting the stage for the tense matchup of Rodriguez vs. Rodriguez that also lasted eight pitches. Wright hit an RBI double in the fifth for the Mets, who scored their first four runs with two outs after getting all five with two down the previous night.