LOS ANGELES -- Terry Collins noted pregame that teams have started to pitch around David Wright, even with right-handers on the mound, so it is vital the lefty hitters behind Wright produce.
That is exactly what transpired Saturday at Dodger Stadium.
With Andres Torres at third base and one out in the sixth inning, Dodgers starter Nathan Eovaldi intentionally walked Wright to bring up Ike Davis.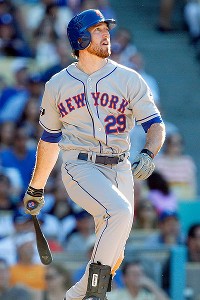 Alex Gallardo/Associated Press
Ike Davis followed an intentional walk to David Wright with a three-run homer Saturday.
Davis answered with a three-run homer that accounted for the final runs in the Mets' 5-0 victory.
"Just hitting a home run is a great feeling," said Davis, who has 45 RBIs, second only to Wright's 50, on the Mets. "Hopefully I can continue to do some damage in situations like that, especially if other teams are going to walk David. Hopefully, maybe toward the second half of the season, they'll start having to pitch to him."
How does Davis have that RBI total with a .203 average?
"I think like every home run I've hit has basically been a three-run homer," said Davis, who actually has six three-run homers and a grand slam among his 11 long balls. "I've been blessed to get it done with guys on base. Hopefully the average climbs. It's hard to climb out of hitting .120 for two and a half months.
"It just shows that I'm at least doing something, and did something right. And hopefully I continue to have good at-bats, and my average will hopefully go up above .200. As long as I'm producing and helping the team win, that's all that really matters."
Wright now has been intentionally walked 10 times this season, including four times this month. In a similar circumstance Friday, with one out and Ruben Tejada on second base against Aaron Harang in the fifth inning, Davis popped out following an intentional walk to Wright. But Lucas Duda and Daniel Murphy followed with consecutive singles to plate a combined three runs, including Wright.
"If we're going to succeed, that's how we're going to do it -- by somebody else coming through when we need them," Collins said. "We've ridden the David Wright horse a lot. And right now they're going to pitch around him, and those guys in the middle have to start doing damage. And they've done it. And that's why we've won some baseball games recently."