LOS ANGELES -- As Terry Collins watched Johan Santana dominate the Dodgers for eight innings during a 5-0 shutout Saturday, pitching coach Dan Warthen asked the manager to imagine what it must have been like when Santana really had oomph on his fastball.
Santana has dominated this season with an 88.4 mph fastball. Six years ago with the Twins, that same pitched averaged 93.1 mph.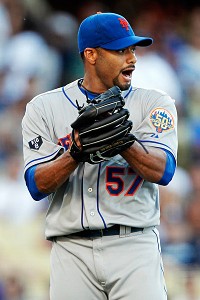 Alex Gallardo/Associated Press
Johan Santana reacts after stranding two runners in scoring position in the eighth to complete a scoreless effort.
"I had never seen Johan Santana throw a pitch live until this year. So I didn't know what to expect," Collins said. "And I was sitting in the dugout today watching him, and he was really starting to get his stuff working. Dan Warthen said to me, 'Can you imagine him when he was 95 and 96 mph?' I can't. I cannot even believe how good he was, because he's real good right now."
Santana, who began the month with a no-hitter before getting extra rest and then serving up four homers to the Yankees, closed the month by limiting Los Angeles to three hits and two walks in eight innings. He struck out three in a 107-pitch effort.
"It's been good," Santana said about his June outings after improving to 6-4 with a 2.76 ERA. "I'm very happy the way everything went. A couple of tough games, but the good thing is that I feel good, that I'm still competing. At this point we're still working and feeling good. That's the key for me. Definitely I'm very happy."
In recent days, Collins had floated the idea of shutting down Santana for the remainder of the first half after Saturday's outing, in order to preserve the southpaw for the second half as he returns from shoulder surgery. That has been dismissed.
So the Mets will stay in their rotation order for the remainder of the first half. That means Dillon Gee pitches Sunday as the Mets aim for a four-game sweep. After a team off-day, the Mets return home to close out the first half with Jon Niese, Chris Young and R.A. Dickey facing the Phillies, followed by Santana, Gee and Niese against the Cubs.
"I'll tell you what: After the second inning he got better and better and better," Collins said about Saturday's showing. "When he went along, he got much better command of his fastball and his changeup. I thought since the no-hitter it's his best outing so far."