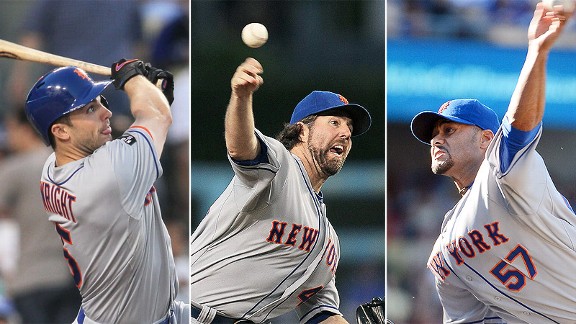 Getty Images
David Wright and R.A. Dickey appear All-Star locks, while Johan Santana seems more likely to be bypassed despite a quality first half.
LOS ANGELES -- David Wright led San Francisco's Pablo Sandoval by 464,549 votes for the starting nod as the National League third baseman two days before voting closed Thursday. Yet Wright, for superstition or other reasons, did not want to discuss Saturday night what returning to the All-Star Game after a one-year absence would mean.
"We'll talk about it tomorrow," Wright initially said.
"If it were to happen what will it mean?" he was asked.
"You'll be here tomorrow. I'll be here tomorrow."
"You're killing me," a reporter said.
"I don't like to talk about something beforehand," Wright replied.
Said a reporter: "You were up by 450,000 votes over Pablo Sandoval with two days to go. You're leading the league in batting average. …"
Countered Wright: "We were up seven games with 17 to play."
Not much to say after that.
Anyway, Wright would appear all but a lock for his six selection and fifth start. His streak was snapped last season because he missed two months with a stress fracture in his lower back.
R.A. Dickey (12-1) also should learn Sunday at 1 p.m. ET that he is an All-Star for the first time in his career. The knuckleballer would appear the logical choice to be the NL's starting pitcher, although that announcement will not be made by NL skipper Tony La Russa until the day before the July 10 game in Kansas City.
Johan Santana, despite a 6-4 record and 2.76 ERA, would appear more likely to be bypassed because of a deep field of NL candidates and the Mets already having two representatives. Even Santana sounded content to rest up to pitch the second-half opener on July 13 in Atlanta.
"If I got the call, that would be great," Santana said. "If not, I will rest and be ready to start all over again. But I think there's some guys out there that deserve it."