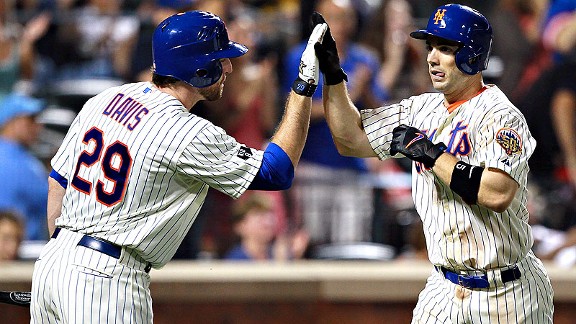 Mike Stobe/Getty Images
There were high-fives all around during Tuesday's win over the Phillies. And with good reason.The New York Mets have now played 81 games -- exactly half a regular season -- and look plenty capable of earning extra dates in October.
How many people would have believed that back in April?
Yet the Mets continue to impress, their latest effort an 11-1 drubbing of the Philadelphia Phillies on Tuesday night, in front of the largest paid crowd in Citi Field history: 42,516.
For the Mets, it was their fifth win in their past six games, upping their record to 44-37. That's good for second place in the National League East, 3 1/2 games behind the Washington Nationals.
For the Phillies, it was their sixth consecutive defeat, dropping them to 36-46 -- 10 games under .500 for the first time since July 22, 2002.
The 49 Greatest Mets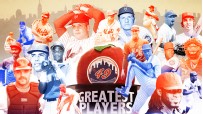 Fifty years after the Mets' first-ever home game (they lost), we give you ... The 49 Greatest Mets

Rank 'Em
You tell us: Who should be No. 50? »
"We're very pleased where we are," said manager Terry Collins. "With all of the things that have happened in the first half -- be it the injuries, the games that we've not won that we thought we had a chance to win -- we're very pleased to be where we are."
The Mets couldn't have played much better than they did Tuesday. Twenty-five-year-old lefty Jonathon Niese -- coming off a June in which he went 3-1 with a 1.89 ERA in five starts -- pitched eight more strong innings, giving up just one run on three hits. Niese is now 7-3 with a 3.35 ERA on the season.
On offense, New York pounded out 11 runs and 15 hits against Vance Worley (who entered the game with a 2.92 ERA) and three Philadelphia relievers. Daniel Murphy went 4-for-5 with four RBIs, Ruben Tejada and Josh Thole added three hits apiece, and David Wright blasted a home run to straightaway center field, driving in four runs on the night as well.
And on defense, Wright, Tejada and Murphy all looked like Gold Glovers, each making at least one sparkling play in the field.
"It just seems like with each win, we gain confidence," said Wright, "and that's a big thing."
It was a very happy group of Mets after such a lopsided win over an archrival, with several heading back out to the field to watch the postgame fireworks display. But the most striking thing about the proceedings in the clubhouse afterward was the common theme echoed by one player after another.
Back in the spring, this team was pegged by many to finish in the cellar of the National League East. But the players themselves felt very different about their chances in 2012.
"I think we've got good talent, and I think it's showing right now," said Niese. "I don't think we're surprised at all."
"We thought we were a good team since the offseason," said Murphy.
"I knew we were good," said Wright. "There wasn't any question what we thought in this clubhouse about the talent we had."
"My expectations were, I thought we had a better club than people gave us credit for," added the manager.
Well, they've proven themselves right -- for three months, anyway. The question is, can they keep it up over the next three?
A year ago at this time, the Mets were also above .500, at 41-40. But they limped home with a final record of 77-85 -- 25 games behind the 102-60 Phillies.
Obviously this appears to be a very different season, particularly for the defending division champs.
The Mets get two more cracks at the Phillies on Wednesday and Thursday, followed by three games against another last-place squad, the Chicago Cubs, before the All-Star break. It's a great opportunity to make some more headway in the standings, and continue proving they're for real.
"The guys have played very hard," said Collins. "I think the most impressive thing is their resiliency. After a bad night or a bad series -- whatever we've had -- they've been able to bounce back from it.
"But we've got a long 81 more to go. And we've just gotta, in the next 81, play better than we did the first 81, and we'll see where we are when it's over."